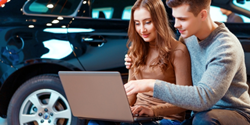 WACO, Texas (PRWEB) February 21, 2020
Richard Karr Motors aims to make car buying, leasing, trading and financing easy with its array of online services. Drivers in the Waco area looking for a new vehicle may resist visiting dealerships due to the length of time they may have to spend there. Richard Karr Motors allows customers to complete almost everything they need online before even stepping onto the dealership lot.
The online trade-in estimator allows current car owners to get a quote for how much their vehicle is worth before deciding to trade in or sell their vehicle to Richard Karr Motors. Calculating their trade online gives owners an idea of how much they will get for their current set of wheels and how much they can put towards a new vehicle.
Online credit pre-approval saves prospective buyers time that would be spent at the dealership. Applying for financing ahead of time gives the dealership's finance team an idea of what the customer's current financial situation is and what kind of financing they will need.
Both the new and used inventory lineups can be viewed right on the dealership's site. With real-time updates to stock, discounts, incentives and pricing, interested shoppers will know exactly what to expect prior to visiting the dealership in person.
All of these online services can be viewed by visiting the dealership online at https://www.richardkarr.com/. The dealership's service team can also be contacted by phone, 254-262-0981, for additional information about available services and inventory. Richard Karr Motors is located at 900 W Loop 340, Waco, TX and is open from 8 a.m. to 7 p.m. Monday through Friday and from 9 a.m. to 5 p.m. on Saturdays.