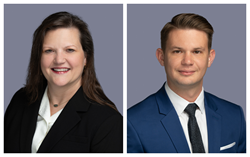 AUSTIN, Texas (PRWEB) January 14, 2020
One of the Austin area's longest-running wealth management firms, Richard P. Slaughter Associates, is starting the new year off with an enhanced staff directory. The bolstered roster will help strengthen relationships, advance customer service, and progress the wealth management needs of all clients.
The four new team members added in recent months expand the staff to 18 service professionals. The two newest additions, Beth Chelton and Josh Gideon, will also have a significant client-facing impact for the firm. Chelton joins the company in a newly created position – Senior Compliance and Project Specialist, while Gideon expands the firm's team of Financial Advisors.
Chelton comes to Slaughter Associates directly from Silicon Valley Bank in Phoenix where she served as Senior Financial Risk and Controls Manager. Before that, she spent 16 years with Sentinel Trust Company in Houston serving many roles, most recently as Senior Vice President and Director of Operations. At Slaughter Associates, Chelton will use her expertise to maintain existing processes and implement new controls as needed to support future growth for the firm.
Gideon joins the Slaughter Associates team following an eight-year stint with Charles Schwab in which he moved quickly up the ranks to Vice President, Financial Consultant for the Austin office. At Schwab, Gideon managed a practice that included more than 250 household families with over $350 million in combined assets. With Slaughter Associates, Gideon will support the financial planning process for new and existing plans as well as further develop client relationships to assure the highest levels of client satisfaction.
"We are excited about the opportunities these new team members will provide to us and our clients," said Brooks Slaughter, President, and CEO. "Each person is a great fit with the culture and mission of our company and, combined, provide us with tremendous capacity to implement new initiatives and projects that will heighten the service experience for our clients."
Rounding out the recent new additions are Hailey Wingfield and Lafe Blobaum who both joined the firm last fall to provide depth in the areas of analysis and planning. Wingfield serves as Associate Analyst and Trader where she assists the investment committee in analyzing a wide range of individual stocks, ETFs, and mutual funds among other client support duties. Blobaum is an Associate Financial Planner and will use his experience as an entrepreneur to help business-owner clients solve the complex challenges often experienced in personal financial plans.
About Richard P. Slaughter Associates, Inc.
Richard P. Slaughter Associates is a leading Austin-based wealth management firm. Slaughter Associates delivers a comprehensive wealth management approach to its clients by providing financial planning, asset management, ongoing education, and a lifespan relationship for a personal and individualized service. This approach is unique in a financial industry that is often segmented and outsourced. By committing to each of these important components, Slaughter Associates charts a path to reach the individual financial goals of its clients.
Founded in 1991 in Austin, Texas by Richard P. Slaughter, Slaughter Associates is one of the original fee-based firms in the nation. In 2010, the firm launched a new division to embrace the business community with RPS Retirement Plan Advisors. Slaughter Associates is a NABCAP Premier Advisor, recognized for its commitment to maintaining top business standards, first-class financial management capabilities, and dedication to preserving transparency in the financial services industry. The firm is also a distinguished Best Places to Work, honored by the Austin Business Journal for 15 consecutive years, and was included in InvestmentNews magazine's list of Best Places to Work for Financial Advisors in 2018 (the inaugural year) and 2019.