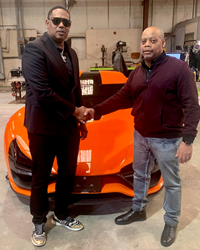 "This car is the Nemesis, an enemy to anything out there!"
LAS VEGAS (PRWEB) January 22, 2021
Trion Supercars Group, is an exotic auto manufacturer now based in Las Vegas Nevada. The founder and CEO, Richard Patterson who recently met with music mogul and business entrepreneur Percy "Master P' Miller on his show, Master P Reviews (http://www.youtube.com/MASTERPREVIEWS), for a preliminary introduction of the 2000 horsepower Nemesis, which Master P and Romeo gave an unprecedented rating of "10" during the formal presentation of the Nemesis. Master P was quoted saying, "I just want to let black people and minorities across the world know how big this is… to have a brother like you to be a part of technology, creating stuff that can change the world!" The Nemesis is an innovative experience, that far exceeds the engineering technologies of any Tesla model and boast of its aero dynamic design features, that gives Lamborghini and Ferrari a competitive rival. The first Nemesis is scheduled to be released in the summer of 2021.
Mr. Patterson is no stranger when it comes to automotive engineering and design. He started his career in the automotive industry at the age of 15 years old at GM in Detroit Michigan. He later worked for several automotive companies which resulted in being the advanced vehicle engineer for the Tesla Model S. Patterson is one of only four automotive engineers in the world that can build a car from vehicle schematics to finished production, and the first African American to own an exotic car manufacturer in the United States. Mr. Patterson said, "This car is the Nemesis, an enemy to anything out there!" Mr. Patterson also designed the landing gear on the Boeing 777 and the folding seats system in the Dodge Minivan.
Trion Supercars Group is now accepting preorders for the Nemesis 2021; however it is exclusive to only 100 qualified buyers that will have the ability to review phases of their customized supercar being built through an app. Among the Nemesis 2021, Trion Supercars Group will also feature an electric SUV that is scheduled for release in late 2021.
For more information on Trion Supercars Group or preordering the Nemesis 2021, you may log on to http://www.trionsupercars.com.