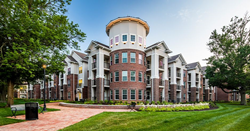 RICHMOND, Va. (PRWEB) January 14, 2021
DF Multifamily, a division of Drucker + Falk, one of the nation's most prominent multifamily management companies, teamed up with Bristol Development Group to lease and manage Canopy at Ginter Park - luxury apartment homes just minutes from downtown Richmond, Virginia. At Bristol Development Group, the dynamic work culture thrives on teamwork utilizing a practical, yet creative approach to selecting sites and developing the right product to the target market. A partnership with Bristol means more than 40 years of experience in strategy, research, design, marketing, and management.
On nearly 15 acres, the 301-unit Canopy at Ginter Park was completed in 2020 and boasts an average of 1,015 square feet per apartment home, a saltwater swimming pool and sundeck, an on-demand spinning and yoga studio, an internet cafe and coffee bar, a Bark Park and Paw Spa, a 24-hour state-of-the-art fitness center, and much more.
Just before the end of the year, the sale of Canopy at Ginter Park was completed at a record-breaking price. In fact, it was the highest price per unit ever recorded in central or southern Virginia.
"Congratulations to our friends at Bristol Development. They are consummate professionals who built a world class product and are a pleasure to work with," says Jim Ledbetter, President and Chief Operating Officer of Drucker + Falk. "We are grateful for the opportunity to have managed and leased-up Canopy at Ginter Park, as well as 2000 West Creek on their behalf. We wish them similar success on all of their future projects."
ABOUT DRUCKER + FALK
Founded in 1938, Drucker + Falk is a full service real estate and investment firm managing a diverse portfolio of nearly 40,000 apartment homes and approximately 3,000,000 square feet of office, retail and industrial space in 13 states. In addition to managing a broad range of properties, including class A+ to affordable apartment communities, mixed-use and all types of commercial properties, Drucker + Falk partners with clients on developing new properties, renovating and repositioning assets, converting historic properties to unique, upscale apartment homes and offers commercial leasing and sales services. The company has completed over $1 billion of transactions and currently oversees a portfolio valued at approximately $3 billion. For more information, visit Drucker + Falk.