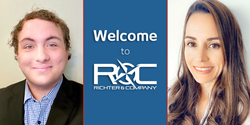 Both Adam and Fernanda bring an excellent combination of industry knowledge, communication skills, and leadership ability to our team.
FREDERICK, Md. (PRWEB) July 28, 2021
Richter & Company, a Frederick-based firm that provides marketing research, competitive analysis, positioning, and pricing solutions to contractors seeking work in the federal marketplace, recently announced two new staff additions.
Adam Stormer has joined Richter's Competitive Intelligence team as a Research Analyst. Mr. Stormer began his career in Cyber Forensics and Information Security before earning a Master of Science degree in Applied Intelligence from Mercyhurst University. At Mercyhurst, Mr. Stormer was a team lead for the Beehive Project, a technical collective designed to provide support to emerging businesses and entrepreneurs. In this role, he interacted with clients, program directors, and a team of analysts to create actionable intelligence products to assist in the creation of products and services.
Joining the Richter Price-to-Win team as an Executive Consultant is Fernanda Demas. According to Richter & Company's PTW Director Gene Metcalf, prior to joining, Ms. Demas provided capture support to federal contractors including cost estimation, training in the development of Basis of Estimates, the facilitation of pricing strategies, and solution development to the firm's clients. In several previous positions as a project accountant, Ms. Demas developed a comprehensive knowledge of financial management, planning, reporting, and compiling competitive, compliant final submission packages.
Both Mr. Stormer and Ms. Demas say they were drawn to Richter & Company because of its solid reputation in the industry, best-in-class methodology, comprehensive proprietary tools, and the team-oriented work environment the firm's leadership has created.
"Both Adam and Fernanda bring an excellent combination of industry knowledge, communication skills, and leadership ability to our team," said Chris Richter "We have every confidence that both Adam and Fernanda have what it takes to provide top-notch support to our customers and increase their win probability in the federal marketplace."
About Richter & Company
Richter & Company was founded in 2006 as a Limited Liability Company registered in the State of Maryland, self-certified as a Small Business. Early in the business acquisition process, Richter offers strategic services to help organizations identify the markets that fit their core capabilities. As capture efforts progress, Richter provides actionable intelligence about customers and the competitive landscape to help shape potential opportunities. Richter identifies and prices competitor solutions based on objective RFP criteria to help define counter-strategies, strengthen bids, and improve win probability. Since its inception, the company has helped clients win more than $30 Billion in new business by using its proven methodology and comprehensive tools.