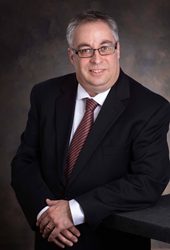 I measure my success based on the success of my clients. To be with them on the path of discovery and growth is awesome. I get up each day knowing I have a business – not just a job – and I'm responsible for my growth and the growth of others. - Rick Franzo
MOUNT POCONO, Pa. (PRWEB) March 04, 2020
The Growth Coach, the international business and sales coaching franchise, is pleased to announce that Rick Franzo, the owner of The Growth Coach of the Poconos, has been recognized with the company's Rising Star Award. The award was presented at The Growth Coach's national conference on February 4, 2020.
"Rick's passion for his clients led to a great year in 2019. His strength in building relationships has helped him find the best solutions for his clients to grow their business and learn from the group coaching model. Rick's give back attitude is displayed in how he helps his clients and his community and I am looking forward to seeing him continue to grow The Growth Coach of the Poconos in 2020 and beyond," The Growth Coach President Lisa Hudson said.
The Growth Coach is the largest provider of affordable group coaching workshops in the nation, but Coaches also offer group and one-on-one coaching for sales professionals, managers, management teams, self-employed professionals and more through a wide variety of programs via three customized industry-leading series: Foundational Series, Fundamental Series and Fast Forward Series. The Growth Coach's mission is to help business leaders build more successful businesses and more balanced lives through coaching, support and accountability. Franzo's local franchise serves Scranton, Mount Pocono, Stroudsburg, Bangor, Moscow, Delaware Water Gap, Belvidere (New Jersey) and the surrounding areas.
"I'm humbled to be recognized in an organization with so many outstanding coaches, it's definitely quite an honor. I absolutely attribute the road to success to the support from The Growth Coach, my colleagues in the franchise and my family. I love what I do – it speaks to my 'why.' I show up for my business and myself each day ready to grow my business through networking, public speaking, educating and most importantly, by building relationships," Franzo said. "I measure my success based on the success of my clients. To be with them on the path of discovery and growth is awesome. I get up each day knowing I have a business – not just a job – and I'm responsible for my growth and the growth of others."
As a Growth Coach, Franzo is certified in The Strategic Mindset coaching process, which adheres to the standards, practices and policies that the International Coaching Federation has set forth in their Code of Professional Standards and Ethics. The company's landmark Strategic Mindset Process is so effective that it comes with a money-back guarantee. Franzo said it's the mindset and The Growth Coach's approach that sets the company apart.
"Many in the coaching realm call themselves coaches, but are really consultants at heart. They give clients their plans, strategies and tactics and the client isn't part of the process of their own growth. As a Growth Coach, I help my clients to advance their hopes, dreams, aspirations and goals and hold them accountable to the process that they are engaged in. I walk that path with them, no matter how difficult. I pride myself on being the help their business was looking for," Franzo said.
The Growth Coach, founded in Cincinnati, Ohio, sold its first franchise in 2003, but its leaders have a successful 20-year track record of helping business leaders find success and balance. Today the business and sales coaching franchise is in more than 100 markets worldwide. The Growth Coach was included in Bond's "Top 100 Franchises" and recognized in Entrepreneur Magazine's "Franchise 500" and "Best of the Best," in USA Today and has been featured on FOX, CBS and NBC.
For more information about how The Growth Coach of the Poconos can help you and your business, call (570)517-4672, email rfranzo@TheGrowthCoach.com or visit http://www.TheGrowthCoachPoconos.com.