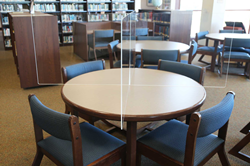 "Our goal is to do everything we can to help schools create safe environments so students and teachers can be safe, and parents like us can feel comfortable. I feel fortunate and grateful that we can help."
CHICAGO (PRWEB) July 30, 2020
The beginning of a new school year is filled with promise and excitement as teachers and staff welcome back students. However, this year, schools are filled with anxiety and concern due to the COVID-19 pandemic.
Companies such as Rieke Office Interiors (ROI) in Elgin, Illinois believe that both businesses and schools across the country should provide safe and healthy environments to help mitigate the risk of COVID-19.
"The common theme is their desire and commitment to do everything they can to keep their faculty and students safe," said ROI President Melissa Kehl. "They are just looking for help coming up with solutions given that this is all so new and moving so quickly. It's been most exciting and rewarding working with them to develop solutions they did not even know existed."
Seeing successful use in other small and large businesses, ROI's SafeSpace™ line has been the solution to help schools safely implement social distancing.
"Fortunately, our original SafeSpace™ line of protective shields has universal application," Kehl said. "Schools are purchasing them to protect their administrative staff and teachers. Our SafeShield RX and SafeDivide units are being used to divide spaces and tables in cafeterias, science labs, nursing offices and teachers' lounges. We're excited about our new desktop products for students that we've designed with the help of our school partners. We've engineered these products taking into consideration student safety, function, and durability while making them cost effective for schools. We now feel like we have the best student protective barrier option for desktops, circular and square tables, and even kidney shaped tables in classrooms and libraries."
Educators such as Elgin Academy's Head of School Seth Hanford see the company's line as extensions of safety as school endure the pandemic.
"In this environment, all educators are seeking innovative solutions that help deliver education safely in a variety of classroom environments," Hanford said. "Rieke has developed just that with their SafeSpace™ product line and we are so thankful for our partnership!"
ROI assisted Geoff Neustadt, assistant director of Buildings and Grounds for Downers Grove Grade School District #58. The district ordered clear panels for its office space and appreciated the company's expert customer service and assistance.
"I appreciate the knowledge and ability to design the office protection we need for our students and staff," Neustadt said.
ROI is excited to being part of the solution in helping schools near and far re-open after being closed for several months.
"We hear the voices on each side of the back-to-school issue and recognize the challenges," Kehl said. "We have kids too, so we appreciate and can relate to the many concerns. Our goal is to do everything we can to help schools create safe environments so students and teachers can be safe, and parents like us can feel comfortable. I feel fortunate and grateful that we can help."
For information about ROI, visit https://rieke.com/.
About Rieke Office Interiors
Rieke Office Interiors (ROI) has an impressive, state-of-the-art, 150,000 square foot, office furniture manufacturing facility in Elgin, Illinois. As a certified WBE business in its 27th year, ROI provides innovative products and services that are fully customizable, a unique capability that isn't found anywhere else in the office interior industry. This flexibility allows ROI to create a big impact for any budget, streamlining the project process to make each vision come to life. For more information, visit Rieke.com. # # #