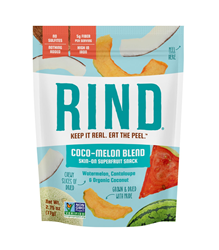 NEW YORK (PRWEB) July 08, 2020
RIND Snacks®, providers of "skin-on superfruit" snacks, has added a new flavor blend to keep up with consumers' increasing hunger for the brand's innovative flavor combinations. "Coco-Melon" debuts as the company's fifth addition to its line, featuring a refreshing three-ingredient blend of organic coconut, watermelon and cantaloupe.
RIND Snacks®'s founder, Matt Weiss, has been intent on packing maximum nutritional and functional value into his products since he first began tinkering with the fruits that built his brand. "Figuring out how to retain a whole melon's incredible flavor, color and nutrition in its dried form—without adding sugar or preservatives—was one of the earliest challenges I wrestled with," says Weiss. "When I first began trying to solve that problem, I dried so much melon that my dehydrator blew out the power in my apartment building. My neighbors will be thrilled to know that, in the years since, we've been able to partner with world-class growers and processors to pioneer the research and development behind Coco-Melon. This launch represents an exciting milestone for us and for whole fruit snacking….and we're just getting started," Weiss adds.
RIND Snacks®'s growth is propelled by the company's approach to maximizing nutrition and innovative flavors, while minimizing food waste. The global healthy snacks market is expanding at a 5.2 percent CAGR and is expected to reach ​$32.9 billion by 2025​. The outlook for the fruit snack segment of this sector that RIND Snacks® occupies is even more promising, with projected ​growth of 8.4 percent​ over the same period.
With further innovation in the pipeline, RIND Snacks® looks to stay on the cutting edge of snacking to delight its loyal and engaged fans. They include more than 22,000 social media followers whose raves have helped spark RIND Snacks® early success.
Request Samples of RIND Snacks®'s Coco- Melon for editorial consideration by contacting daniel@prezzroom.com
Download High Res Images of RIND Snacks®'s Coco- Melon from the image gallery here.
###
About RIND®: RIND Snacks is a line of chewy, tangy, whole-fruit, "skin-on superfruit" snacks at the intersection of functional and sustainable snacking that welcomes everyone to: "Keep it Real & Eat the Peel." Launched in NYC in 2018, RIND Snacks® are the result of a multigenerational family focus on delicious, all-natural foods that sustain personal and planetary health.
By preserving the most nutritious part of California grown, non-GMO certified and organic fruit, RIND's snacks are packed with up to 3x more fiber and vitamins than traditional dried fruit and also help fight food waste by using the fruit, the whole fruit and nothing but the fruit. The line includes five unique and crave-able flavor blends: Straw-Peary (sweet red apple, bosc pear and thinly sliced strawberry); Tropical (organic pineapple, orange and kiwi), Orchard (persimmon, green apple, peach), Tangy Kiwi (California Kiwi), and the newest flavor, Coco Melon (organic coconut, watermelon and cantaloupe); released in July 2020. Each SKU comes in two-serving, re-sealable pouches ($5.99). RIND Snacks are available for distribution via partners: UNFI KeHE, Chex and Pod Foods. RIND is currently sold in over 600 natural and specialty markets, including Whole Foods, Wegmans, The Fresh Market, Fairway, Kings, Balducci's, Erewhon, Plum and Foxtrot Markets.
*Pricing may vary by location; check local stores for specific prices.
Media contact:
Daniel Huipe
daniel@prezzroom.com