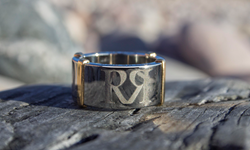 Ring Around Me - a highly customized, artisan ring constructed of gold and stainless steel – encourages wearers to stay in the moment.
ANNAPOLIS, Md. (PRWEB) September 11, 2018
Ring Around Me - a jewelry company with U.S. headquarters in Annapolis - has launched its first ring in the US market, designed to promote mindfulness and purposeful living. Currently, the ring can be purchased at http://www.ringaroundme.com.
Ring Around Me - a highly customized, artisan ring constructed of gold and stainless steel – encourages wearers to stay in the moment and remember those most important in your life.
Ring Around Me was initially founded by Sophia Amvrazis and Sally Dawson. Shortly thereafter, Sally was diagnosed with cancer and passed away. During her battle with the disease, she used her ring to help her live in the moment and give her peace of mind every time she touched it.
"Sally's ring was a constant reminder to give comfort and find comfort from those around her, and it gave her peace of mind," says Julianne Hemingway, CEO at Ring Around Me. "We want to keep giving Sally's legacy the opportunity to help others who may be going through something significant in their lives, such as a baby's birth, cancer survivorship, or just staying open to the world around you and to new experiences."
Hemingway continues, "This is jewelry for people who want to live a powerful and purposeful life. This is why you'll still see the phrase "Ring Me Ring" etched into our rings as a reminder of Sally's original purpose – and why we are donating a portion of our sales to non-profit organizations."
One percent of all sales of the rings will be donated to charity. Those who purchase a ring from Ring Around Me will have the opportunity to choose whether the donation goes to either Susan G. Komen, a charity devoted to breast cancer research, or Bo's Effort, a non-profit focused on mental health.
While the practice of mindfulness and living purpose filled lives has been around for many years, it has become an increasingly important practice for people seeking inspiration in today's stressful times. Professionals – from lawyers to technology developers – are using mindfulness techniques, which have been shown to reduce anxiety, depression, and distractions.
About Ring Around Me
With U.S. offices located in Annapolis, Maryland, Ring Around Me is headquartered in London, England. The company started in 2010 with a specially designed ring to promote mindfulness - reminding people to live powerfully, live in the moment, and remember those you love every day. Devoted to helping others and giving back, the company donates one percent of all sales to charity. For more information, please visit https://www.ringaroundme.com/ or follow them on Instagram @RingAroundMeLondon.