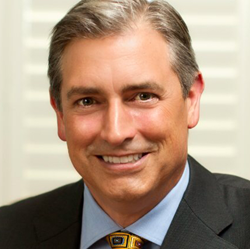 Scott Ham's addition to our team underscores RLV's commitment to balancing venturing expertise with deep industry acumen.
Chicago, IL (PRWEB) November 29, 2016
Ringleader Ventures (RLV) announced today that Scott Ham, former Transamerica Life and Protection President and CEO, has joined the firm as Industry Director to co-lead its latest venture fund, INSight, targeting the insurance industry.
"The INSight fund addresses the insurance industry's need for profitable growth through new, non-traditional revenue", says Mike Bechtel, Managing Partner of Ringleader Ventures. "Scott takes our operation to the next level, bringing significant industry expertise, a track record of innovation leadership, and a first-hand understanding of the organizational and market pressures facing the insurance C-Suite."
INSight's thesis is driven in part by the experience of partner company, Maddock Douglas, Inc., an innovation consultancy with a significant insurance industry footprint. Says Ham, "Our new fund will optimize financial and strategic value for our investors, a select group of leading reinsurers, carriers, and distributors. Our approach is innovative in two significant ways. First, we're insight-driven; anchoring our investment strategy around insurance customers' emerging behaviors and expectations. Secondly, we're searching well beyond the crowded #Insuretech sector."
Bechtel adds, "We specialize in fishing for non-obvious startups from adjacent ponds that may have unknowingly built something extremely useful to the insurance industry."
Maria Ferrante-Schepis, EVP and Managing Principal at Maddock Douglas, and author of the book 'Flirting with the Uninterested: Innovating in a "Sold, not Bought" Category' is both an LP in the INSight Fund, and its Customer Insights Principal. She says: "Scott Ham's addition to our team underscores RLV's commitment to balancing venturing expertise with deep industry acumen."
Bechtel concludes, "Given the never-ending chatter about disruption, we believe our novel enterprise-to-entrepreneur (E2e) approach brings David and Goliath together constructively, and for mutual advantage."
Adds Ham, "I'm looking very forward to it."
Prior to RLV, Mr. Ham held several executive leadership roles within Transamerica, including Chief Distribution Officer, with responsibility for overall direction of sales, marketing, product development, CX, innovation and omni-channel distribution across all business lines. Before assuming the role of Chief Distribution Officer, Scott served as President & CEO of Transamerica's Life & Protection division. Scott holds a JD from Pepperdine University School of Law and a BA from the Pennsylvania State University.
About Ringleader Ventures
Established in 2013, Ringleader Ventures (RLV) is a Chicago-based VC firm that invests in profitable partnerships between established enterprises and exceptional entrepreneurs. For more information, please visit http://www.ringleaderventures.com