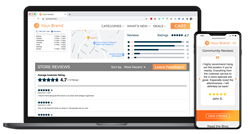 SAN DIEGO (PRWEB) October 29, 2020
Rio SEO, the leading local marketing platform provider for enterprise brands, agencies and retailers, has announced its new Local Ratings solution. Local Ratings complement Rio SEO's existing Local Reviews solution, and provide website visitors with unparalleled visibility into user-generated review insights, enabling brands to promote transparency and build trust.
With Local Ratings, multi-location brands can provide a seamless shopping experience for their customers by building confidence through credible, on-page customer reviews. Through powerful, easy-to-use backend tools, brands can easily surface valuable consumer feedback to better influence and encourage conversions.
Other ways enterprise brands benefit from leveraging Local Ratings include:
Enhance Online Presence - Businesses are better represented online with a greater volume of customer feedback, helping guide consumer buying decisions with more accurate and recent reviews. Local Ratings empower your business to showcase your customer's feedback in a transparent, easily digestible format for future potential customers to see.
Gain Consumer Trust - Build significant trust and credibility with your customers by showcasing a steady stream of verified reviews on your local pages. Local Ratings enable you to show your most recent feedback received.
Improve SEO - Automatically wrap review content with JSON-LD structured data. This ensures Google has better comprehension of your user-generated content and improves your chance of achieving coveted rich results..
Screen for Defamatory Language - Customers may leave feedback that does not adhere to your brand's reviews policy. Just as Google Reviews has put a strict policy in place, which specifically disallows advertising, off-topic reviews, obscene or offensive language, a conflict of interest by a reviewer, copyrighted content, material, and hate speech, and more, your brand too can monitor feedback you receive. Our publishing filters flag testimonials containing libel or profanity to ensure the utmost quality of reviews published to your directory pages.
Improve Transparency - Growth often happens in times of adversity. However, if your local managers aren't privy to feedback their store is receiving, it can be difficult to pinpoint areas for improvement. Customize reports with our reporting tool to analyze trends and distribute ratings and comments to easily distribute to your internal stakeholders.
Fully Customizable Widgets - Take control of the appearance of your reviews with the ability to customize your widgets, such as by altering the color scheme to match your brand's style guidelines and the ability to determine exactly which questions you want to ask your reviewers.
Ease of Use - The ability to monitor, collect, and manage multiple reviews has never been a more seamless process. Bulk approve reviews, apply sorting filters, and get a granular look into what people are saying about your brand, all within a centralized dashboard.
"One of the best approaches to curating meaningful content is through consumers who know and engage with your brand regularly," said Mick Wilson, VP of Client Success at Rio SEO. "Allowing your customers to leave review content directly on your website is an often untapped opportunity that creates user-generated content that is not only great for SEO, but also prompts conversions to drive consumers toward your products and services, whether that be via brick and mortar or online."
Rio Local Ratings is the latest addition to Rio SEO's robust local marketing platform, which accurately publishes local listings and location data across more than 170 directories, applications, and platforms worldwide. Trusted by more than 150 global, corporate brands, Rio SEO's enterprise local marketing platform is proven to drive online visibility, engage consumers throughout the local search ecosystem and win local business at scale.
About Rio SEO
Rio SEO is the leading local marketing platform for enterprise brands, agencies and retailers. Rio SEO's Open Local Platform provides multi-location organizations with a comprehensive, seamlessly integrated suite of turnkey local marketing solutions and reputation management tools – Local Listings, Local Pages, Local Reviews, Local Ratings, Local Reporting, and Local Manager – proven to increase brand visibility across search engines, social networks, maps applications and more.
Founded in 2006, Rio SEO ranks among the largest global providers of local search automation solutions and patented SEO reporting tools, driving business from search to sale for corporate brands worldwide. Over 150 enterprise brands and retailers rely on the innovative technology and Rio SEO's local marketing expertise to drive motivated, measurable online traffic to its local websites and into physical stores. Rio SEO currently serves Fortune 500 companies across a variety of industries including retail, finance, insurance, hospitality and more. For more information, visit rioseo.com or follow @rio_SEO on Twitter.