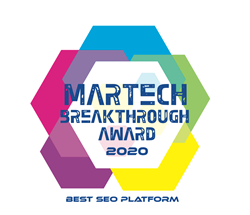 SAN DIEGO (PRWEB) September 23, 2020
Rio SEO, the leading local marketing platform provider for enterprise brands, agencies and retailers, today announced that its Open Local Platform has been selected as the winner of the "Best SEO Platform" award in the third annual MarTech Breakthrough Awards program conducted by MarTech Breakthrough, a leading market intelligence organization that recognizes the top companies, technologies and products in the global marketing, sales and advertising technology industry today.
Rio SEO's Open Local Platform is an innovative suite of tested and proven products that work together seamlessly to achieve local marketing and local SEO success. Collectively, these tools empower brands to tackle their local marketing challenges, such as multi-location content creation, management and reporting in a multi-faceted way, while syndicating critical and accurate local data across over 173 directories and in over 50 countries. By utilizing Rio SEO's Local Listings solution, brands equip their local managers and franchise owners with powerful, corporate-approved local marketing tools unique to the needs of each individual location.
"We are thrilled to be selected as the winner of the Best SEO platform award in the MarTech Breakthrough Awards," said Mick Wilson, VP of Client Success at Rio SEO. "This year, in light of the COVID-19 pandemic, it became more evident than ever that brands need the ability to update customers often amid operational changes. Our Open Local Platform is enabling businesses to communicate these essential updates quickly to the masses. Through consistent, clear and effective communication across major local search platforms such as Google, Yelp, and Bing, our goal is to empower businesses to improve the customer experience, increase brand loyalty and drive sales, despite this challenging time."
The mission of the MarTech Breakthrough Awards is to honor excellence and recognize the innovation, hard work and success in a range of marketing, sales and advertising technology related categories, including marketing automation, market research and customer experience, AdTech, SalesTech, marketing analytics, content and social marketing, mobile marketing and many more. This year's program attracted more than 2,750 nominations from over 15 different countries throughout the world.
"Rio SEO is providing the highest level of brand visibility and customer connection at the local level through a powerful portfolio of software solutions," said James Johnson, Managing Director at MarTech Breakthrough. "Rio SEO's suite of local marketing software is delivering breakthrough results for their customers and we are thrilled to recognize them as 2020 MarTech Breakthrough Award winners!"
In addition to managing local listings for thousands of locations for high-profile enterprise brands, Rio SEO also specializes in providing highly-customizable Local Pages solutions, packed with schema best practices to improve local SEO, branded design elements and engaging CTAs. Local Pages are built to provide a seamless customer experience across any device that's integrated within a brand's corporate site. Rio SEO also offers a robust reputation management solution, Local Reviews, which provides a suite of powerful tools that provide unparalleled insight into both positive and negative feedback left by customers. From these insights, brands can easily identify trends, strengths and weaknesses, benchmark against competitors and directly respond to customer reviews within a centralized dashboard across all their locations.
As a full-service local marketing and reputation management solution with built-in transparency and accountability in a single dashboard, Rio SEO's innovative software powers millions of meaningful customer interactions each year. Rio SEO's platform is proven to increase brand visibility across search engines, social networks and map applications, as well as drive measurable traffic and attributable revenue from search to sale.
About Rio SEO
Rio SEO is the leading local marketing solution for enterprise brands, agencies and retailers. Rio SEO's Open Local Platform provides multi-location organizations with a comprehensive, seamlessly integrated suite of turnkey local marketing solutions and reputation management tools – Local Listings, Local Reporting, Local Pages, Local Reviews and Local Manager – proven to increase brand visibility across search engines, social networks, maps applications and more.
Founded in 2006, Rio SEO ranks among the largest global providers of local search automation solutions and patented SEO reporting tools, driving business from search to sale for corporate brands worldwide. Over 150 enterprise brands and retailers rely on Rio SEO's innovative technology and local marketing expertise to drive motivated, measurable online traffic to local websites and into physical stores. Rio SEO currently serves Fortune 500 companies across a variety of industries including retail, finance, insurance, hospitality and more. For more information, visit rioseo.com or follow @rio_SEO on Twitter.
About MarTech Breakthrough
Part of Tech Breakthrough, a leading market intelligence and recognition platform for global technology innovation and leadership, the MarTech Breakthrough Awards program is devoted to honoring excellence in marketing, ad and sales technology companies, products and people. The MarTech Breakthrough Awards provide a platform for public recognition around the achievements of breakthrough marketing technology companies and products in categories including marketing automation, AdTech, SalesTech, marketing analytics, CRM, content and social marketing, website, SEM, mobile marketing and more. For more information, visit MarTechBreakthrough.com.