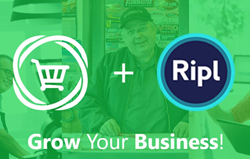 "Video is changing the way eCommerce is conducted. Video allows even the smallest retailer to level the playing field... and compete for direct sales on the Internet."
BELLEVUE, Wash. (PRWEB) October 11, 2018
Ripl Inc., a software company that helps small businesses market on social media, today unveiled a significant partnership which will allow their users to engage customers using LiveShopCast's actionable video platform at substantial savings. Now the same online store operators can create customized, dynamic, branded videos for posting on social media, and then follow up by broadcasting live video that allows viewers to purchase directly from the LiveShopCast app.
"Video is changing the way eCommerce is conducted. Video allows even the smallest retailer to level the playing field with larger companies and compete for direct sales on the Internet," said Paul Ingalls, CEO and founder of Ripl. "By combining the marketing and analytics solution of Ripl with LiveShopCast's actionable video platform, online retailers can better engage with their existing audience and more easily convert followers into new revenue-producing customers."
Businesses now have access to an expanded toolbox of social media marketing and engagement solutions to help them reach new customers and substantially grow their incomes. To adequately mark this milestone and make it readily accessible for businesses of all sizes, Ripl and LiveShopCast are offering users a discounted "Business Accelerator" package for Ripl Pro and LiveShopCast Business.
"We're extremely proud to work with Ripl and create this Business Accelerator package that will provide businesses a suite of incredible tools they can use to level the playing field and compete with established brands for consumer attention…at an incredible price," said John Kueber, CEO and Founder of LiveshopCast. "This solution provides businesses a fantastic opportunity to start leveraging LiveShopCast's live-streaming eCommerce platform and use Ripl's powerful marketing engine to build up their audience...for less than I pay in a week for coffee. We're excited to partner and provide this to businesses throughout North America."
The "gig economy" is re-imagining the future of work, setting unprecedented standards of mobility and flexibility. To meet the needs of this fast-moving economy, Ripl enables users to share posts across all major social media platforms with just one click. The smart technology behind Ripl turns data into actionable insights to increase the effectiveness of posts. For example, Ripl provides daily recommendations that are customized to specific business type on what and when to post.
"I love that Ripl gives me ideas every day for posts," said Gina Stango, a marketing manager and real estate agent. "I'm active in a number of things, and I use Ripl for all of them. I have a full-time job in a marketing department, I manage a triathlon club, and I am a realtor. Most days my brain is overloaded! Ripl's recommendations help me make the most of my social media marketing across each type of activity."
LiveShopCast's actionable video platform enables any brand to produce a live video shopping show that generates sales through your existing ecommerce store. The actionable video platform allows you to directly engage with viewers and quickly convert them to customers who purchase with confidence. LiveShopCast users have seen cart abandonment rates drop precipitously and repeat customers grow substantially.
"LiveShopCast gives us the opportunity to create a significant customer touch point, in a meaningful and memorable way," said Chris Coburn, a small business owner in the Pacific Northwest. "I don't know of any other technological medium in which a seller can quickly and directly answer questions about their product—with thousands of customers—without leaving the store."
Discover the Ripl + LiveShopCast Business Accelerator Offers Today
Online retailers who visit the Business Accelerator site will receive a free trial membership then have the opportunity to purchase a premium subscription for Ripl Pro and LiveShopCast Business at a substantial discount.
The Ripl Pro premium small business social media marketing solution gives more options to small businesses for content personalization, including adding a brand logo, access to 250+ customizable design templates, 150+ fonts, 150+ music tracks, and the ability to use personal music libraries. Ripl Pro can be purchased as a monthly or yearly subscription.
LiveShopCast's Business Package provides users with a free 20 minute personal hosting live tutorial from one of their recognized broadcast experts, 2 live broadcasts per month, the ability to easily integrate recorded video during broadcasts, the opportunity to include multiple remote "co-hosts", a dedicated archive of all videos and many other features to enable broadcasters to better engage their audience and allow them to take action.
About Ripl:
Ripl, Inc., a privately held software technology company based in Bellevue, Washington, provides marketing software and premium subscription services to small businesses globally via its mobile and web applications. To learn more about Ripl, view tutorials, or receive support, visit https://www.ripl.com or the Ripl Facebook Page.
About LiveShopCast:
LiveShopCast is a live video shopping platform that is disrupting how customers interact with brands using live video. In only its first year of operation, LiveShopCast has enabled hundreds of brands to execute thousands of new transactions. Using the LiveShopCast app, users conduct live, studio quality broadcasts, typically using equipment they already have, to provide product demos, answer questions live and ultimately generate revenues beyond their existing e-commerce efforts. Learn more at https://www.liveshopcast.com/ or visit us at the LiveShopCast Facebook Page.