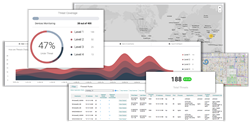 "The release of our new Security Module is intended to help users sift through the noise of their complex IT environments," said Zane Whitner, VP of Product at RISC Networks.
ASHEVILLE, N.C. (PRWEB) February 01, 2019
RISC Networks is excited to announce the release of their new Security Module, enhancements to Asset Discovery, and an upgraded dashboard for an enriched user experience. This product release, Balsam, will include:

Threat Levels & Reports
NIST & OVAL Integration
Geolocation
Identification of Connections to High Risk Areas and Anonymous Proxies
Centralized Reporting
Change Over Time
RISC Networks is a world leader in discovery and IT analytics. Their newest addition, Security, fulfills a key piece of any IT transformation project. Users can be confident they are understanding the full picture of potential security threats. With the context of applications, business services, and departments, the Security Module pulls together the data of parallel systems into an actionable perspective.
Integrations with the National Institute of Standards and Technology (NIST) and the Center for Internet Security OVAL Common Vulnerabilities and Exposures (CIS OVAL CVE) enable the user to determine vulnerabilities on Linux packages. All incoming and outgoing internet connections are mapped geographically. This allows organizations to understand where their users are and if they are accessing their applications from high-risk areas or anonymous proxies.
The Security Module introduces a new page, focused on Threat data. Among other Security highlights, the page will include ways to rank and prioritize servers in the environment based on their behaviors. For example, internet connected servers that have existing software vulnerabilities on running packages are of higher priority.
Understanding and managing IT projects can be difficult, time consuming, and frustrating. The enhanced features around Asset Discovery and the upgraded dashboard are designed to save users time. RISC Networks does this by providing better insight into the distribution of devices in the network to present a clearer and more meaningful view of the entire network.
"The release of our new Security Module is intended to help users sift through the noise of their complex IT environments," said Zane Whitner, VP of Product at RISC Networks. "Having all the data without any context around it leads to uninformed decisions and costly errors. We wanted to give our users better data to make faster decisions so they can be happier."
On February 14, 2019, RISC Networks will host a Balsam Release Webinar. This webinar will be a walkthrough of the new features. To register for the webinar, please click here.
RISC Networks provides actionable information to help enterprise organizations plan and execute IT transformation projects. The Balsam release will provide even more solutions for an ever-evolving IT landscape.
About RISC Networks
RISC Networks is 100% independent, platform agnostic and self-funded since 2007. The RISC Networks vision is to unlock business potential by delivering more meaningful data analysis and providing information that helps IT leaders take immediate action. RISC Networks is the industry's leader in cloud, data center and network operations analytics with more than 13,000 analytics engagements and hundreds of industry leading solution partners. The company is headquartered in Asheville, NC.