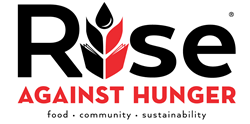 RALEIGH, N.C. (PRWEB) September 23, 2020
Rise Against Hunger, in partnership with non-profit organization Global Volunteers, has launched Journey to Serve: Tanzania, an interactive virtual impact trip that immerses participants in the humanitarian work Global Volunteers and Rise Against Hunger are doing in the country as well as teaching participants about Tanzanian culture and history.
Travel restrictions and safety measures resulted in the cancelation of many people's international travel plans, and the global health crisis has led to an increased need for socially-distanced volunteer and donor engagement opportunities. Journey to Serve: Tanzania not only provides a solution to these changes, but also gives a detailed and personal look at the work Rise Against Hunger and Global Volunteers do through the Reaching Children's Potential program, which supports children and families in Tanzania.
"This virtual journey to Tanzania is an educational and accessible solution for those with a pent-up longing to express their personal commitment to service during this time," says Michele Gran, Global Volunteers Co-founder and Senior Vice President. "Our work continues during the pandemic, and Rise Against Hunger gives participants a channel for impacting family's lives — at a time when they need it most."
While navigating through the interactive, multimedia site, individuals and groups have an immersive, educational experience similar to if the participants were physically traveling to the country. Participants hear from Reaching Children's Potential members, previous program volunteers, and Rise Against Hunger and Global Volunteers staff. Videos provide clear visuals of Ipalamwa, Tanzania, and the Reaching Children's Potential program, and hands-on activities, such as recipe cards, throughout the trip encourage participants to truly engage with the country's culture. The trip is also very impactful, with the $99 Journey to Serve: Tanzania registration fee enabling participants to provide nourishing meals to a child for an entire school year during a time of critical need.
"At Rise Against Hunger, we know hunger will not end without volunteers and advocates being engaged and driving awareness and change," says Barry Mattson, Rise Against Hunger CEO. "We're excited to launch this opportunity for people to engage with our mission in a new, digital way! The number of people facing hunger worldwide is expected to drastically increase as a result of COVID-19, so volunteering and engagement must increase to meet the need around the world."
Rise Against Hunger and Global Volunteers have partnered together since 2017. Rise Against Hunger supports the Reaching Children's Potential program, launched by Global Volunteers, through the supplying of nutritious meals for the program's children and families.
About Rise Against Hunger
Rise Against Hunger, an international humanitarian organization, is growing a global movement to end hunger by empowering communities, nourishing lives and responding to emergencies. With locations across the U.S. and five international offices, the organization provides immediate nourishment for those facing hunger today and implements sustainable solutions that will lift entire communities for years to come. Rise Against Hunger has facilitated volunteer meal packaging of more than 537 million meals to be distributed to countries around the world. To find out more about Rise Against Hunger's efforts to end hunger worldwide, please visit http://www.riseagainsthunger.org.
About Global Volunteers
Global Volunteers, a US-based 501(c)(3) human and economic development organization, is dedicated to helping build a foundation for world peace through mutual international understanding. For more than 36 years, the organization has encouraged and enabled volunteers to spend short periods of time working with and learning from and about local people, in communities throughout the world. Global Volunteers continually strives to create, nurture and sustain the well-being of the world's children and their community, so that they might realize the full promise of their human potential. To learn more, visit http://www.globalvolunteers.org.