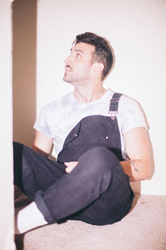 "Working with Eames has been a dream of mine since our college days. I want this song to surprise my listeners with something completely different than my last release." - Matt Rose
CHARLOTTE, N.C. (PRWEB) February 22, 2019
Eames's much awaited 3rd single, 'Always Find U', releases everywhere today. It has been anticipated since last fall of 2018 when he debuted with 'Die 4 U' and 'Feel'. With every song thus far, he has stretched himself outside of genre and we see just how capable he is as a producer and artist. This is the first single with a feature artist and also the first single featuring his own vocals.
The first verse showcases long time friend and rapper Matt Rose, then moves into powerful, deep vocal layers expressing the emotion of a love lost. Similar to his influences, such as Mura Masa, Flume, Frank Ocean, and Bon Iver, Eames knows no boundaries.
Eames has previously toured as a drummer with pop artist Betty Who, remixed songs for indie artists Matt Rose and Brayton Bowman, and scored indie films and projects for directors Jakub Blank and Jared Hogan.
'Always Find U' was written and produced by Eames, features vocals by himself and Matt Rose, mixed by Scott Desmarais, and mastered by Joe Causey with Voyager Mastering.
http://iameames.com