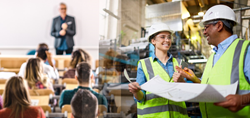 "For two years of school and a ton of growth potential [in NDT], there are no limits and you see the returns quickly," he says.
ROLLING MEADOWS, Ill. (PRWEB) September 22, 2020
Berg Engineering & Sales Company, Inc. provides equipment and services for industrial testing. As US infrastructure deteriorates and investments in new projects lag, NDT will be critical for cost-effective maintenance of existing bridges, buildings, and structures. The aerospace, manufacturing, and energy industries are equally in need of NDT expertise. The Bureau of Labor Statistics estimates the NDT field will grow by 6-7% in the next few years. To meet this growing demand colleges and companies in the industry must cultivate the next generation of leaders.
Berg Engineering is committed to doing our part to reach out to new entrants in the field and ensure they find a path suited to their skills and interests. The first step towards this goal is awareness. In order to gain deeper insight into the NDT career trajectory, we interviewed five NDT professionals. Their backgrounds are as diverse as the NDT field itself. The starting point of their journeys range from engineering to academia to medical school, as well as those who pursued the field straight out of high school. They reveal what led them to choose the NDT career, the challenges they faced, and the rewards and satisfaction they have gained thus far in their careers.
The NDT field offers young professionals an array of specialties to pursue, including Ultrasonic Testing (UT), Electromagnetic Testing (ET)/Eddy Current Testing (EC), Radiographic Testing (RT)/X-Ray Fluorescence, Magnetic Particle Testing (MT), Liquid Penetrant Testing (PT), and Visual Testing (VT) among other NDT methods. There is room for all types of professionals, from the technically minded to the hands on. We hope this interview series will bring to the light the diversity of the field, and use the voices of real NDT professionals to connect with young students and give them a reason to consider an NDT career.
To read the article, click here!
About Berg Engineering
Berg Engineering & Sales Company, Inc., a privately-held company based in Rolling Meadows, IL, provides sales and service to the nondestructive testing, material testing and electrical testing equipment industries. Berg Engineering's products facilitate inspections to improve cost, productivity and the quality of their customers' products. The company is an ISO/IEC 17025 accredited (by ANAB) calibration laboratory. Brands distributed and serviced by Berg Engineering include Bruker, Baker Hughes and Waygate Technologies (formerly GE Inspection Technologies), Magnaflux, Buehler – Wilson, NewSonic, Synergys, CorDEX, Zetec and many more. The company has been in business for over 50 years.
Twitter - @BergEngineering
Facebook - @BergNDT
LinkedIn - Berg Engineering
YouTube - Berg Engineering & Sales Company, Inc.