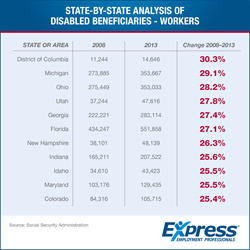 If you're wondering why the labor force is shrinking, this is part of the reason.
OKLAHOMA CITY (PRWEB) March 11, 2015
Express Employment Professionals today released a new analysis of the Social Security Administration's disability rolls, studying which states saw the sharpest increase in disability beneficiaries from 2008 to 2013.
Nationally, the number of former workers on disability increased 20.4 percent over five years. While that rate of increase is roughly in line with the previous five-year period, it stands in sharp contrast to the overall rate of population growth, which was around four percent from 2008 to 2013.
Twenty-four states increased at a rate lower than the national average, while 26 states and the District of Columbia grew faster than the national average.
Colorado, Maryland, Idaho, Indiana, New Hampshire, Florida, Georgia, Utah, Ohio, Michigan and D.C. saw the largest increases in the nation.
Only eight states saw increases under 15 percent: New York, Virginia, Mississippi, North Dakota, Hawaii, Maine, Connecticut and West Virginia.
This sharp and steady rise shows that America's disability roles continue to swell, nearing 9 million former workers in 2013. As Express has observed in previous white papers, that is due in part to disability benefits playing the roll of de facto unemployment insurance.
"The rise in disability beneficiaries goes hand-in-hand with the declining labor force participation rate," said Bob Funk, CEO of Express, and a former chairman of the Federal Reserve Bank of Kansas City. "If you're wondering why the labor force is shrinking, this is part of the reason. Americans are leaving the workforce and joining the disability rolls at a rapid rate, which shows no signs of slowing.
"While the rate increases differ from state to state, it's clearly a nationwide trend. The truly disabled need our help, but America is in trouble if able-bodied workers are being classified as disabled."
To view the complete state-by-state analysis of disabled beneficiaries, click here.
If you would like to arrange for an interview with Bob Funk to discuss this topic, please contact Sherry Kast at (405) 717-5966.
About Robert A. Funk
Robert A. "Bob" Funk is chairman and chief executive officer of Express Employment Professionals. Headquartered in Oklahoma City, the international staffing company has 725 franchises in the U.S., Canada and South Africa. Under his leadership, Express has put more than five million people to work worldwide. Funk served as the Chairman of the Federal Reserve Bank of Kansas City and was also the Chairman of the Conference of Chairmen of the Federal Reserve.
About Express Employment Professionals
Express Employment Professionals puts people to work. It generated $2.85 billion in sales and employed more than 456,000 people in 2014. Express ranks as the largest franchised staffing company and second largest privately held staffing company in the United States. Its long-term goal is to put a million people to work annually.