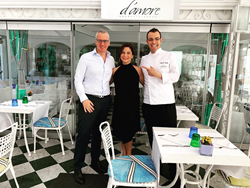 "It is an honor and a privilege for us to have been invited to share our unique cuisine, culture, and terroir with American audiences," says Ristorante D'Amore Owner Marco D'Amore.
WASHINGTON (PRWEB) February 11, 2020
The word "Caprese" means much more than mozzarella and tomatoes, and Ristorante D'Amore Capri's team is headed to the US to prove it! The Italian island of Capri has been synonymous with romance, beauty, mouthwatering cuisine and la dolce vita for decades! Since its' opening in 1996, Ristorante D'Amore Capri has been a top summer dining destination for tourists and locals alike. As a token of appreciation to its' many American clients, restaurant owner Marco D'Amore and Executive Chef Pasquale Rinaldo decided to embark on their first American culinary journey in order to offer NY and DC residents a taste of the sweet life in Capri during American heart
month!
The first stop on their American tour is The James Beard House for the sold-out "Under the Capri Sun" dinner.
"Cooking, for me, is love and passion, but at the same time it is also tradition and innovation. It is the scent of my home and my homeland that I share with my guests," says Chef Pasquale Rinaldo. The evening's menu features updated interpretations of classic Caprese dishes by Chef Pasquale Rinaldo as well as a selection of Pizzaiolo Antonio Fusco's Neapolitan favorites. "Each pizza he creates is unique and without upsetting its soul, it can satisfy any palate, anywhere in the world." The dinner concludes with Chef Pasquale Rinaldo's Panettone di Capri which is currently sold internationally. Each course will be paired with Terranera wines.
In Washington DC, the culinary duo will also spread the love D'Amore-style at Stellina Pizzeria (on Washingtonian's Top 100 Very Best Restaurants 2020 List) where they will be hosted by Chef/Pizzaiolo/Co-Owner Matteo Venini. The Valentine's Day event called "From Capri with Love" will be open to the public from 5-10 PM on a first come, first served basis. The chefs will prepare a family-style, three-course menu comprised of pizza fritta, ravioli Capresi, Chef Pasquale Rinaldo's panettone and a bottle of wine.
The events are made possible by the generous contributions of Ristorante D'Amore,
Goeldlin Collection, Grande Cheese, Olitalia,Gustarosso, Latteria Sorrentina, Ristorante del Pino, Molino Dalla Giovanna, Terranera Winery, Melissa's Produce, Amy Riolo, LIFeSTYLE, Blackhawk Imports, Nomad, and Alma Gourmet.
About Ristorante D'Amore Capri
Known for its cuisine which represents both the traditional flavors of one of the world's most decadent islands and cutting-edge Italian trends, the food served at Ristorante D'Amore is a reflection of the magical charms of its natural surroundings. Continuously run by Capri-natives the D'Amore family, Ristorante D'Amore is an annual winner of the Trip Advisor Excellence Award since 2013.
About Chef Pasquale Rinaldo
Known for his anticipated segments on the popular Italian cooking show La Prova del Cuoco, Chef Pasquale Rinaldo is an internationally recognized authority on Neapolitan and Amalfi-Coast cuisine. A Naples native, Chef Pasquale has a passion for incorporating lush, local ingredients grown in the foothills of Mount Vesuvius and ripened under the Capri sun with cutting edge techniques and traditional flavors. As the Executive Chef of Capri landmark, Ristorante d'Amore,, Chef Pasquale turns out dishes that evoke as much love as the owners' last name, Amore!
About Special Guest Pizzaiolo Antonio Fusco
Born on the foothills of Mount Vesuvius, Antonio Fusco's love of pizza began as a child, when he used to steal money from his parents to buy flour and brewer's yeast to play with! He began working in his family's pizzeria as a teenager and decided to make it a career. In 1996 he joined the Mario Leonessa Group and led the team to consolidate and relaunch Ristorante Del Pino's pizzeria. The popular pizzaiolo is proud to represent different brands, including the "Molino Dalla Giovanna", "Latteria Sorrentina" and "Gustarosso" which enables him to perform demonstrations, classes, and events in various parts of the world.
For more information or to schedule media interviews, please contact Amy Riolo
Brand Ambassador, Ristorante D"Amore Capri by emailing amy@amyriolo.com.