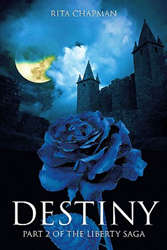 "This sci-fi series continues with the second exciting book in author Rita Chapman's imaginative arsenal." - Robert Fletcher, CEO of Strategic Book Publishing and Rights Agency
NEW YORK (PRWEB) February 11, 2019
"Destiny: Part 2 of the Liberty Saga" was just named the winner of the 2018 London Book Festival's Science Fiction category. The book is the second in author Rita Chapman's "Liberty Saga" series. The London Book Festival is an annual competition that honors the best of international publishing across a variety of genres.
The book follows the adventures of a young woman named Liberty. Committed to being the Life Partner of the emperor's adoptive son, David, Liberty has grown into a strong woman and is a princess in her own right.
In part two of this series aimed at younger readers, Liberty must develop her powerful inner strength, as well as gain the wisdom to make her own decisions. She lives centuries into the future, a time when vampires rule Earth, though they are not as powerful as in the past.
Liberty is still looking for the last of the Sky Dwellers, trying to find the one who can help her fulfill her true destiny. Then she meets a being in the lower levels of the castle, someone she is drawn to, and who is completely opposite of her Life Partner. Will Liberty make the right life decision?
Watch the video at: https://youtu.be/PpWYqwPBw3E
"This sci-fi series continues with the second exciting book in author Rita Chapman's imaginative arsenal. We are thrilled to announce its release," said Robert Fletcher, CEO of Strategic Book Publishing and Rights Agency.
About the Author: Rita Chapman was born in Essex, lived in London, and now resides in Devon. "My mother was Irish and made up the most incredible adventure stories when I was young. I tried to do the same with my own children. This story has always been with me. It's another world that I have created and love." This is her second book. The first book in the series, "Liberty," was written seven years ago.
DESTINY: PART 2 OF THE LIBERTY SAGA (ISBN: 978-1-946539-23-6) is now available for $20.95 and can be ordered through the publisher's website:
http://sbprabooks.com/RitaChapman or at Amazon.com or Barnesandnoble.com.
WHOLESALERS: This book is distributed by Ingram Books and other wholesale distributors. Contact your representative with the ISBN for purchase. Wholesale purchase for retailers, universities, libraries, and other organizations is also available through the publisher; please email bookorder@sbpra.net.