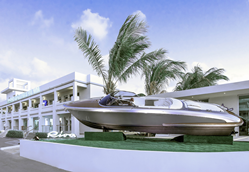 "Understanding the exquisite beauty of a Riva is difficult to explain in words, the vessel is simply stunning, and we are honored to present this amazing vessel to our valued clients this season" comments Bert Fowles, IGY Marinas' Vice President of Marketing.
FORT LAUDERDALE, Fla. (PRWEB) February 04, 2020
The world's largest international superyacht company, Island Global Yachting (IGY), is excited to reveal Riva as the newest addition to its Superyacht Destination Showcase at Yacht Club Isle de Sol, St. Maarten. Riva's iconic – ISEO - will be the spotlight attraction during locally activated events and activities throughout the 2019-2020 season.
Awarded the 2017 Superyacht Marina of the Year, Yacht Club Isle de Sol welcomes hundreds of the world's largest superyachts to its docks in St. Maarten each year. The high-end luxury brands IGY Marinas is showcasing will create a lifestyle focused, destination experience in direct alignment with its superyacht owner and charter guest clientele. Riva and IGY created a stunning display for the ISEO at the main entrance of Yacht Club Isle de Sol - fully complementing the facility's recent multimillion-dollar renovation inclusive of the addition of Navy Beach.
"Understanding the exquisite beauty of a Riva is difficult to explain in words, the vessel is simply stunning, and we are honored to present this amazing vessel to our valued clients this season" comments Bert Fowles, IGY Marinas' Vice President of Marketing.
The official reveal of the Riva will be held during a private St. Maarten Superyacht Destination Showcase event taking place in February 2020 with IGY and Riva sending out invites to an exclusive local function at Yacht Club Isle de Sol. Additional events and activities will be planned throughout the remainder of the 2020 season to celebrate the iconic brand and the St. Maarten as one of the world's leading superyacht destinations!
# # #
Follow IGY Marinas on Facebook at http://www.Facebook.com/IGYMarinas or Twitter and Instagram @IGYMarinas. Discover the network of IGY Marinas at http://www.IGYMarinas.com.
About IGY Marinas
IGY Marinas is one of the largest international marina companies in the world and a leading point of contact for vessels across the globe. The company's network includes 17 marinas operating in 10 countries, United States, Mexico, Costa Rica, Panama, Colombia, Turks & Caicos, St. Maarten, St. Lucia, France, and Italy; with more than 10,000 vessels serviced each year and approximately 100,000 annual customers. The company has 3,000 slips under management catering to a variety of markets, including megayacht, sportfish, cruise, and sail. With more than 400 purpose-built slips accommodating superyacht vessels from 80 feet (24m) to 800' (243m), IGY's marinas serve as leading destination ports for some of the world's largest yachts - servicing thousands of superyachts every year.
Additionally, IGY Marinas boasts one of the world's leading large vessel superyacht support networks, the IGY Anchor Club Strategic Partners, which encompasses an array of services from provisioning to crew training, along with health and maritime travel. IGY Marinas also hosts top international sailing, fishing and nautical-related events, making its marinas highly sought‐after maritime activity destinations. With a passion for giving back on a global scale, the company philanthropic initiative "Inspire Giving through You" has supported over 40 non-profit organizations' initiatives across its marina destinations.
About Riva Yachts
RIVA AND FERRETTI GROUP
Riva is a brand of Ferretti Group, a world leader in the design, construction and sale of motor yachts and pleasure vessels, with a unique portfolio of prestigious and exclusive brands: Ferretti Yachts, Riva, Pershing, Itama, Mochi Craft, CRN, Custom Line and Wally.
Led by Chairman Tan Xuguang and Chief Executive Officer Alberto Galassi, the Ferretti Group can boast modern facilities located across Italy that combine the efficiency of industrial production with typical world-class Italian craftsmanship - the heritage of Italy's centuries-old yachting tradition.
Established in 1968, the Group is also present in the USA - via its subsidiary Ferretti Group America, which manages a network of points of sales and dealers specializing in the marketing and sale of the Group's brands throughout the North American market - and in Asia, through its subsidiary Ferretti Group Asia Pacific Ltd., based in Hong Kong, as well as several representative offices and sales centres in Shanghai and other locations in China.
Moreover, a network of approximately 60 carefully selected dealers guarantees the Group's presence in over 80 countries, thereby ensuring clients receive the very best assistance all over the world.
The Ferretti Group has always been a leader in the leisure boating industry, thanks to steady product and process innovation and the constant search for cutting-edge technological solutions.
The wide range of available boats - flybridge, runabout, open, coupé, lobster boats, maxi and superyachts - is conceived by the Group's Product Strategy Committee, the Marketing department and the Engineering department, all fully committed to developing aesthetic and functionally innovative solutions while working in close cooperation with internationally renowned consulting boat designers.
Ferretti Group motor yachts have always distinguished themselves in the international boating sector for their outstanding quality, impressive safety and excellent performance at sea, as well as for their exclusive design and timeless appeal.
For further information: http://www.riva-yacht.com
IGY Marinas Media Contact:
Kay Mellinger
954-510-3307 / PR@IGYMarinas.com
Riva Yachts Media Contact:
Silvia Nordio
786 714 2252 / silvia.nordio@ferrettigroup.com