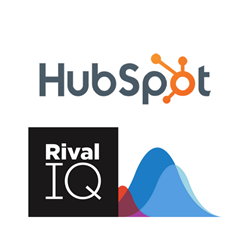 "Rival IQ provides HubSpot customers with an opportunity to benefit from meaningful social analytics." -Kevin Raheja, director of strategic partnerships at HubSpot
Seattle, Washington (PRWEB) September 26, 2017
Rival IQ, the leader in social marketing analytics and insights, announced today that all HubSpot Marketing customers have access to a free Rival IQ account to measure and optimize their social media. Exclusive to HubSpot customers, this offer of a free lifetime subscription to Rival IQ delivers a powerful solution to refine the social component of inbound marketing, benchmark social performance against direct competitors, strengthen social marketing strategy, and discover actionable insights.
"Rival IQ provides HubSpot customers with an opportunity to benefit from meaningful social analytics, helping them identify content that resonates with their followers, which dovetails with the way they leverage HubSpot to optimize their inbound marketing strategy," said Kevin Raheja, director of strategic partnerships at HubSpot. "Understanding social data helps marketers better manage their brand, programs, and campaigns across their social and inbound channels."
Rival IQ enables marketers and brand managers to identify engaging content by providing critical competitive social insights, extending the value of their existing Hubspot subscription. Active HubSpot customers subscribed to a Basic, Pro or Enterprise account can sign up between now and September 30, 2017, for access to Rival IQ social media analytics for as long as they maintain a paid Marketing account with HubSpot.
With Rival IQ, HubSpot customers can:
-Distinguish trends and content opportunities with breakout activity and boosted post detection.
-Pinpoint strategic opportunities to optimize social performance with key data insights.
-Demonstrate campaign success with in-depth reporting and competitive benchmarking.
"Rival IQ's social media analytics complement the robust reporting on inbound marketing already available in HubSpot," said John Gallagher, head of marketing at Rival IQ. "With free lifetime account access to Rival IQ analytics, HubSpot customers can immediately begin benchmarking social performance to the competition and start making more data-driven decisions based on comprehensive channel-by-channel engagement analysis."
Qualifying HubSpot customers can access their free Rival IQ social analytics by logging into Rival IQ with their HubSpot credentials at https://www.rivaliq.com/product/HubSpot/.
Marketing agencies, brands and organizations who are not already HubSpot customers and who are looking to evaluate their social media performance, keep tabs on the competition, and foster a stronger sense of community among their followers may sign up for a free trial of Rival IQ at https://www.RivalIQ.com.
Contact:
Danica Benson
Rival IQ media(at)rivaliq.com
About Rival IQ
Rival IQ helps digital marketers make more informed content decisions, better understand their audiences and improve their social media engagement using Rival IQ's clear analytics and competitive intelligence insights. For more information, visit http://www.rivaliq.com, call +1.206.395.8572, or follow us on Twitter, LinkedIn, and Facebook.