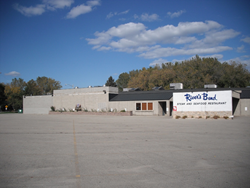 Green Bay, WI (PRWEB) November 05, 2014
A major commercial investment opportunity has opened up in the form of a turn-key property auction of a very popular restaurant in Green Bay, Wisconsin, at 792 Riverview Drive (zip: 54303). This property is near hotels and shopping, with easy on and off highway access. It is minutes away from Lambeau Field, the home of the Green Bay Packers, which attracts well over 100,000 visitors each year. River's Bend Steak & Seafood is known for offering fine surf and turf dining on the beautiful shore of Duck Creek.
The entire property consists of 3 waterfront acres, and the restaurant has great views of the water from the entire dining room through its large rectangular windows. The restaurant's interior is likewise impressive, with a spectacular floor-to-ceiling brick fireplace and large amounts of space within the atrium that make the room very buffet-ready. A large indoor bar lies inside right next to the reception area and, during the warmer months, the outdoor tiki bar is ideal for summer gatherings.
The banquet and meeting room also has separate bar areas, and a modular wall system which allows the room to be made smaller if necessary. The kitchen is quite sizable and sports walk-in coolers and freezers, a dishwashing area, and an inventory storage room. The waitress station has also been updated with touch-screen computers, and a brand new Maitre'D POS system.
Micoley.com (also based in Green Bay) President and CEO Wade T. Micoley expressed his pleasure in playing a part in helping a fellow Green Bay business with its transition to finding new ownership: "River's Bend has been a long standing tradition in Northeastern Wisconsin. This is an opportunity to purchase and continue that tradition at very attractive pricing. The sale of the facility is turn-key and will include equipment and a known reputation for quality dining experiences."
The property is scheduled for online-only auction Saturday, November 22 from 11:00 a.m. - 2:00 p.m. CST. List price of the property is $850,000, with an opening bid of $675,000. However, the highly motivated sellers of this property have indicated that they plan to entertain early bids and the property may sell prior to the Auction.
Buyers are most likely already researching this property, and coming to decisions about the purchase, so potential buyers are advised to act fast. Interested parties should visit micoley.com to find more photos and details about the property, or schedule an on-site inspection, which is highly recommended. (866) 449-0508 is Micoley.com's information line. Additionally, Micoley.com features a live chat service through which questions can be answered.
About Micoley.com:
Green Bay, Wisconsin-based Micoley.com is a real estate marketing firm specializing in project focused auctions of bank-owned properties throughout the United States. The Micoley.com approach to real estate marketing tailors each auction plan to the client's individual needs. The site is constantly being updated for the benefit of buyers, as large-scale auction events are held monthly, and new properties are added daily. Auctioneer Firm: Micoley.com, LLC #432-53. Registered Wisconsin Auctioneer Wade. T. Micoley #2647-052. Broker Firm: WM Enterprises, Inc. #835181-91 and Broker Wade T. Micoley #43427-90.