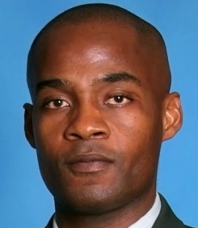 Being a retired Military Officer myself, I know the Corporate Fellowship Program will help Troy ease the transition, especially the cultural transition from military to civilian life, such as new routines, commutes, wardrobe, and social environments," said Manny Rivera, President/ CEO for RiVidium
MANASSAS, Va. (PRWEB) March 03, 2020
RiVidium, Inc. (dba TripleCyber) today announced that as part of the Military Hiring Our Heroes (HoH) Corporate Fellowship Program (CFP), COL Troy Lorenzo Ewing will join the RiVidium team. The CFP is an innovative 12-week program that provides transitioning service members with professional training and hands-on experience in the civilian workforce. The professional development offered through the CFP prepares candidates for a smooth transition into meaningful civilian careers.
RiVidium will have the benefit of COL Ewing as part of the CFP and temporarily gains a valuable team member, who is among the best and brightest transitioning service members. COL Ewing's area of expertise in Military Intelligence will support RiVidium's Intelligence Division under Richard Trimber, Chief Delivery Officer (CDO).
COL Ewing is a seasoned Military Officer with the US Army who has more than 26 years of Military Intelligence and Military Police experience. He most recently served with the National Geospatial-Intelligence Agency as the Deputy Director for the "Analysis, Technology, and Tradecraft Directorate" program, responsible for providing strategic transformational leadership to geospatial programs that advance analytic tradecraft and technologies. In addition, he was the Deputy Director for NGA's "Mission Management Integration Group," responsible for the integration of intelligence operations across various mission sets, disciplines, and organizations throughout NGA's Geospatial-Intelligence Enterprise.
"Being a retired Military Officer myself, I know the Corporate Fellowship Program will help Troy ease the transition, especially the cultural transition from military to civilian life, such as new routines, commutes, wardrobe, and social environments," said Manny Rivera, President/ CEO for RiVidium. "It will also give Troy a preview of corporate industry and the Government contracting world, which will be very helpful when it's time for Troy to make a shift into the corporate market. There will be plenty of opportunity for Troy to learn about himself and understand what he truly wants to do once he transitions into the civilian sector."
"I am excited to join RiVidium's team as part of the Corporate Fellowship Program and I look forward to learning the business culture, the corporate market, and applying the experiences I have gained as a military officer to the civilian sector," said Colonel Ewing. "This is a remarkable opportunity to collaborate with an outstanding company, and I look forward to maximizing my potential as I move into a new phase in my career path."
As Strategic Intelligence Officer with the US Army, Troy has led diverse teams of open-source intelligence analysts, data scientists, and analytic methodologists to support policy and doctrine development. He has served in numerous Joint and International assignments, to include serving as an Executive Officer to Commanding Generals, Intelligence Analyst at the White House National Security Council, and Intelligence Plans Director (J25) for Special Joint Operations Forces-Afghanistan. He holds a PhD in International Relations, Master of Science, and an MBA, and is expert in the strategic analysis of international relations and comparative regional studies.
About RiVidium. RiVidium, the leader in IT, Logistics, Cyber, Intel, and Human Capital Management (HCM), offers a robust portfolio of capabilities, featuring patented cyber and security platforms as well as libraries for HCM employee decision support tools for new hires. RiVidium's technologies are accessible from any device through RiVidium's cloud support infrastructure. These technologies provide security, interactive user experience, and deep analytics on user engagement. By transforming traditional methods used to communicate on the Internet, RiVidium significantly increases customer and individual security while decreasing the personal exposure footprint on the Internet. For more information please visit http://www.rividium.com.