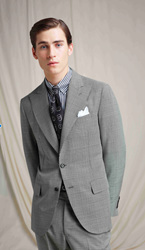 Paulette Garafalo, CEO, and President of Phineas Cole says, "These are the ideal styles for summer living. The new collection offers a wide range of both casual sportswear and tailored suiting with the high level of sophistication in the materials and silhouettes our customers expect from us."
NEW YORK (PRWEB) March 29, 2021
The Phineas Cole spring 2021 collection is inspired by the fashionable wardrobes of artists and writers who worked and played along the Riviera in the 1920s. These include a black & white abstract print linen dinner jacket to be worn with a bow tie, and an unlined linen batik print suit in a black and tan Art Deco print.
There are loose, linen styles for warm weather dressing. Details include a tuxedo style, bib front linen shirt, banded collars, contrast piping, and drawstring waists that are designed for looking good while staying cool. Colorful cotton pique polo shirts, Scottish cashmere cable crewneck sweaters, and French Terry long-sleeved polo shirts finish off the sportswear looks.
Creative Director Ralph Auriemma says, "The Riviera collection is designed for the edgy guy who loves fashion. I've designed a complete collection that outfits him in modern looks for both casual and dressier occasions." For example, there are tailored suits and sport jackets in ultra-lightweight wool with peak lapels. In shirting, there are cutaway club collars in horizontal stripes and a new tab collar that compliments a new double-breasted wool suit in a slim silhouette. Pants are styled in hopsack linen with both full and slimmer leg options in black, red, white, and blue.
Paulette Garafalo, CEO, and President of Phineas Cole says, "These are the ideal styles for summer living. The new collection offers a wide range of both casual sportswear and tailored suiting with the high level of sophistication in the materials and silhouettes our customers expect from us."
A sailing theme prevails across the collection with archival prints of sailboats on linen ties, linen shirts with a buoy print, and swimsuits with archival print sailboat motifs. Phineas Cole has 3 different styles of Italian made raincoats. A nylon navy cape with zippered pockets, a raincoat with bonded zippers and seams, and a long anorak style raincoat. For traditionalists, there's also a bright yellow raincoat. Lastly, a military-inspired, red cashmere knit jacket with box pleat pockets and a stand-up collar.
All of these styles are perfectly finished with Paul Stuart's Italian leather sneakers, Miguel suede espadrilles, and Palma sandals from the new spring footwear collection.
About Paul Stuart:
Headquartered in New York City, Paul Stuart, Inc. was founded by Ralph Ostrove and named for his son Paul Stuart Ostrove, has remained in its original location since opening in 1938. The company designs exclusive collections of men's and women's tailored clothing, sportswear, and accessories. Additional stores are located in Southampton, NY, Chicago, and Washington, D.C.