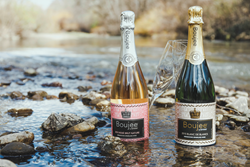 UKIAH, Calif. (PRWEB) September 04, 2019
RIVINO produces a range of affordable, high-quality wines from seven varietals grown on their estate of 250 acres. They are using a range of grapes to create complex and layered sparklings that are unlike anything else found in California. Boujee Blancs de Blanc is a blend of chardonnay, pinot blanc, and viognier – with the viognier lending a very distinctive fruit to this bright and clean wine. Boujee Rosé draws in the Blancs de Blanc blend and adds syrah – a substitute for the more common pinot noir component, which adds an extra layer of richness.
These wines are unique in their lack of added sugar – no dosage is added to the wine at any point, resulting in a Brut Natural style wine distinct from the more common California Brut wines (which may have up to three teaspoons of sugar added). Not only does this make for a brighter, less sweet wine, but the low viscosity creates tiny, energized bubbles – perfect for enjoying on a special occasion.
"We created this sparkling because I gravitate towards the drier, crisper style of French Champagne," says winemaker and owner Jason McConnell, "While there's certainly nothing wrong with the sweeter Californian style, I wanted a wine that really fit my palate. I know our source material is excellent, and I thought we had an opportunity here to do something truly original – and something I'd enjoy drinking every day myself."
RIVINO sits on the edge of the Russian River, perfect terroir for sparkling wines. All grapes used in the wines come from the property. They are hand riddled, using antique racks from Champagne, ten cases at a time. These wines are unfined and labeled Vegan Friendly.
About RIVINO Estate Vineyards and Winery
Located on the Russian River in Mendocino County, RIVINO is a boutique family-owned winery. The 250 acre ranch is planted with chardonnay, merlot, cabernet franc, viognier, pinot blanc, syrah, and sangiovese. In addition to single-varietal bottlings, they also produce a blend of merlot, cabernet franc, and viognier (Sedulous), a syrah/viognier coferment (Tiger Juice), and two port-style wines. Total annual case production is less than 5,000. RIVINO is a combination of the words 'RIVER' and 'VINO' – "Where the River Becomes the Wine."