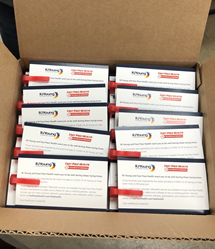 "RJ Young's commitment to community is now more important than ever. We welcomed the opportunity to reach out to Tennesseans affected by the recent storms and Coronavirus," said RJ Young COO, AJ Baggott
NASHVILLE, Tenn. (PRWEB) May 05, 2020
RJ Young, a leading provider of business solutions, and Fast Pace Health, urgent care clinics, partnered to give back to the community with a donation of 5,000 hand sanitizer pens in storm-stricken areas of Tennessee. The Salvation Army of Nashville and Chattanooga, Metro Police Department – North Precinct Nashville, Nashville Fire Department Station 2, and Putnam County Health Department received the shipments of sanitizer.
The devasting March 3rd tornado in Middle Tennessee, and the April 12th outbreak of storms and tornadoes in Chattanooga, both caused major destruction to homes, roads, utilities, and businesses. That coupled with the COVID-19 pandemic, led the partners to focus donating the sanitizer to those hardest hit areas.
RJ Young supplies Fast Pace Health with branded hand sanitizer through their custom promotional products division. "Fast Pace Health partnered with RJ Young to assist in donating sanitizer pens to those affected by storms in Tennessee. We are blessed to be able to give back to the community in this way," said Selena Gurley, Fast Pace Health State Director for Tennessee clinics. In response to COVID-19, Fast Pace Health provides Telehealth services which are available via smartphones or tablets and is offered to new or existing patients. Services include care for many common ailments, prescriptions, and medication refills. Patients may connect online at //FastPaceHealth.com/telehealth
"RJ Young's commitment to community is now more important than ever. We welcomed the opportunity to reach out to Tennesseans affected by the recent storms and Coronavirus," said RJ Young COO, AJ Baggott.
ABOUT RJ YOUNG
RJ Young is the largest, privately-held dealer in the Southeast and one of the largest in the nation, specializing in managed IT services, audio visual, document management solutions, managed print services, remote support, remote monitoring, fulfillment services, and office imaging for small to enterprise level businesses. Headquartered in Nashville, Tennessee, RJ Young has been partnering with businesses since 1955 and has over 600 employees in over 30 sales and service locations across nine states. Under the corporate tagline "Your productivity is our mission," RJ Young helps modern professionals become more successful in their businesses with solutions to securely manage paper and digital information and empowers businesses with leading printing technologies. To learn more about RJ Young, visit https://www.rjyoung.com.
ABOUT FAST PACE HEALTH
Fast Pace Health clinics provide treatments for a wide range of illnesses, injuries, and common conditions and provide a variety of wellness, diagnostic and screening services. Open seven days a week with extended hours, Fast Pace Health offers patients the convenience of short wait times, daily urgent care services, telehealth services, and the ability to be seen by a primary care provider without an appointment. Fast Pace Health accepts most insurance providers and offers affordable self-pay prices for uninsured patients. Each Fast Pace Health clinic features multiple exam rooms, on-site lab testing, and X-ray capabilities. Fast Pace Health's "patient first" mentality has guided its mission to provide convenient and compassionate care to the communities it serves.