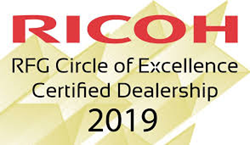 "Being named a recipient of this award again this year is truly an honor. I am extremely proud of our service techs who earned their prestige certification and continue to ensure that our customers are taken care of every day." – Matt Baker, RJ Young Service Director
NASHVILLE, Tenn. (PRWEB) November 15, 2018
RJ Young is proud to announce they have received the 2019 Ricoh Family Group (RFG) Circle of Excellence award. In addition to this award, RJ Young had four service technicians achieve top scores for the Ricoh prestige testing. RJ Young is proud to recognize the technicians who were awarded prestige status: Andrew Keeley, Roger Ballard, Steve Richards, and Chris Herauf.
"Being named a recipient of this award again this year is truly an honor. I am extremely proud of our service techs who earned their prestige certification and continue to ensure that our customers are taken care of every day." – Matt Baker, RJ Young Service Director
Established in 2013, the RFG Circle of Excellence is awarded to Ricoh dealers who demonstrate both technical proficiency and service operational efficiency. As a qualified dealer, RJ Young's service techs, who had taken a Ricoh training course within the past three years, took an online test pertaining to Ricoh products and how to troubleshoot various problems. The individuals with the top 75 scores across the country earn Ricoh prestige status and RJ Young is proud to have four technicians earn this status.
Every year, since 2013, RJ Young has been a proud recipient of the Ricoh Circle of Excellence award. RJ Young is proud to partner with Ricoh and provide top-of-the-line equipment to their customers.
About RJ Young
RJ Young is one of the largest independent office equipment dealers in the Southeast, specializing in document management solutions, managed print services, IT services, process automation, and office imaging. Headquartered in Nashville, Tennessee, RJ Young has been in business since 1955 and has over 600 employees across 8 states in 27 locations. Under the corporate tagline "your productivity is our mission," RJ Young helps modern professionals become more successful in their businesses with solutions to securely manage information, maintain vital information technology systems, and empower businesses with leading printing technologies. To learn more about all the office solutions that RJ Young provides, please visit https://www.rjyoung.com