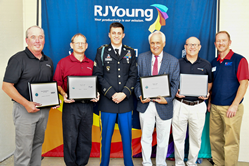 "I've never worked for a company that truly cared for its employees. It really showed while I was deployed, and my family was well taken care of in my absence. When the CEO of the company asks you personally if you needed anything prior to leaving is unheard of these days," said Sergeant Gathman
NASHVILLE, Tenn. (PRWEB) September 25, 2019
A Department of Defense Patriotic Employer Award was presented to members of RJ Young in Nashville, Tennessee on September 9. Chip Crunk, Curt Gross, Doug Montgomery, and Phillip Woolery were nominated by Sergeant Edward Gathman, of the National Guard.
Gathman submitted the nominations in recognition of the support he received during his deployment conducting a joint operation in the Middle East. Gathman, who works with Gross, Montgomery, and Woolery in the RJ Young Jackson, Mississippi office, said during the ceremony that the support of his coworkers made a difference for him and his family. He also thanked CEO and President, Chip Crunk, for his support and the use of his satellite phone during his service in Afghanistan. Gathman said, "I've never worked for a company that truly cared for its employees. It really showed while I was deployed, and my family was well taken care of in my absence. To have not only my direct supervisors' support, but the CEO as well, is truly amazing. When the CEO of the company asks you personally if you needed anything prior to leaving is unheard of these days. It's an honor to work for a company like this."
Keith Hatton, ESGR (Employer Support of the Guard and Reserve) volunteer, discussed the importance of an employer's support for a service member and thanked RJ Young for their support of Sergeant Gathman.
About Tennessee ESGR
Tennessee ESGR (Employer Support of the Guard and Reserve) promotes employer support for Guard and Reserve service by recognizing outstanding support, increasing awareness of applicable laws, and assisting in the resolution of conflicts between employers and service members. ESGR grants a series of Department of Defense awards to promote furthering employer support of servicemembers.
About RJ Young
RJ Young is the largest, privately-held dealer in the Southeast and one of the largest in the nation, specializing in managed IT services, document management solutions, managed print services, remote support, remote monitoring, fulfillment services, and office imaging for small to enterprise-level businesses. Headquartered in Nashville, Tennessee, RJ Young has been partnering with businesses since 1955 and has over 650 employees in over 30 sales and service locations across nine states. Under the corporate tagline "Your productivity is our mission," RJ Young helps modern professionals become more successful in their businesses with solutions to securely manage paper and digital information and empowers businesses with leading printing technologies. To learn more about RJ Young, visit https://www.rjyoung.com.