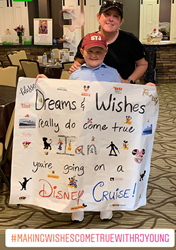 On behalf of Dreams & Wishes of TN, I would like to thank all of the employees at RJ Young for their support & donations which made Ian's wish come true. We've been able to grant more wishes to kids fighting cancer because of our sponsorship with RJ Young –Program Dir. Tanya Sturm of Dreams & Wishes
NASHVILLE, Tenn. (PRWEB) September 27, 2019
On September 11th, 2019, RJ Young's Hands & Hearts Committee granted ten-year-old Ian's wish of going on a Disney cruise.
Ian was diagnosed with a brain tumor at 16 months old. He received three brain surgeries, six rounds of chemotherapy, and 30 days of proton radiation. Just prior to starting kindergarten, Ian had a mini stroke which led to two more brain surgeries to create a bypass in his brain. In May 2018, he was diagnosed with a radiation-induced high-grade sarcoma in his brow bone which required another brain surgery and six chemo treatments. Doctors are also closely monitoring suspicious spots on his lungs.
"On behalf of Dreams and Wishes of Tennessee, I would like to thank all of the employees at RJ Young for their support and donations which made Ian's wish come true. We have been able to grant more wishes to kiddos fighting cancer because of our sponsorship with RJ Young," said Program Director, Tanya Sturm of Dreams and Wishes.
Ian is currently recovering well and regaining strength. He is a huge Disney fan and has always dreamed of going on a Disney cruise. Ian and his family will be going on a four-night cruise on the Disney Dream ship in October 2019.
RJ Young's COO, AJ Baggott said, "RJ Young's commitment to giving back to our community is at the heart of our core values and culture. We were incredibly fortunate to have this opportunity to meet Ian and his family and to inform them that his wish was being granted. This is a testament to the more than 650 RJ Young employees who generously contributed to this amazing cause."
RJ Young has raised funds to grant ten children with wishes throughout the past 15 years.
About Hands & Hearts Committee
RJ Young's Hands & Hearts Committee was created 15 years ago in order to raise awareness, recruit volunteers, and organize fundraisers for community service projects throughout the year for the RJ Young employees. In 2019, funds raised from RJ Young's employees' were allocated for Dreams and Wishes of Tennessee.
About Dreams and Wishes
Dreams and Wishes of Tennessee is a 501(c)(3) non-profit Wish Granting organization that grants wishes to individuals between the ages of 5-21 who have relapsed from cancer. For giving opportunities, volunteer, or to refer a child visit https://www.dreamsandwishesoftn.org/how-to-help
About RJ Young
RJ Young is the largest, privately-held dealer in the Southeast and one of the largest in the nation, specializing in managed IT services, document management solutions, managed print services, remote support, remote monitoring, fulfillment services, and office imaging for small to enterprise level businesses. Headquartered in Nashville, Tennessee, RJ Young has been partnering with businesses since 1955 and has over 650 employees in over 30 sales and service locations across nine states. Under the corporate tagline "Your productivity is our mission," RJ Young helps modern professionals become more successful in their businesses with solutions to securely manage paper and digital information and empowers businesses with leading printing technologies. To learn more about RJ Young, visit https://www.rjyoung.com.