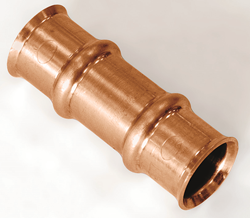 SHELBINA, Mo. (PRWEB) June 03, 2019
RLS LLC ("RLS") is pleased to announce that it has settled the patent infringement lawsuits it filed against Conex Universal Limited ("Conex").
RLS filed its U.S. lawsuit on January 22, 2018, alleging that Conex infringes claims of U.S. Patent Nos. 9,145,992 and 9,638,361 (Case No. 3:18-cv-00125-SMY-MAB in the U.S. District Court for the Southern District of Illinois). RLS filed its UK lawsuit on May 20, 2019, alleging that Conex infringes claims of EP (UK) 2 629 902 and EP (UK) 3 255 328. The patents are related to RLS's award-winning crimp fittings. RLS alleged Conex's B MaxiPro fitting is covered by claims of the patents. Conex denied infringement and alleged RLS's patents are invalid.
RLS and Conex have agreed to settle the dispute. As part of the settlement, Conex has agreed, without admitting liability or infringement, that as of June 30, 2019, it will stop selling the design of its B MaxiPro fitting that RLS accused of infringement in the lawsuits. Conex has changed its design.
RLS is a subsidiary of Marmon Holdings, Inc., a Berkshire Hathaway company. RLS designs, develops, and manufactures its patented Rapid Locking System engineered for high-pressure connections in the air conditioning and refrigeration industries. By replacing the time-consuming and demanding conventional practice of manually brazing copper joints, RLS's Rapid Locking System allows for faster, more consistent connections and reduces total installed cost while enhancing safety. RLS owns patents and pending applications around the world directed to its Rapid Locking System. For more information, visit RLS's website at http://www.rlspressfittings.com/ and http://www.rlspressfittings.com/patents/.