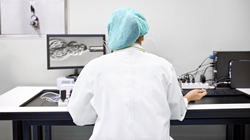 "We know that time is a luxury many of our patients do not have when it comes to their family-building efforts. We have no intention of closing."
NEW YORK (PRWEB) April 23, 2020
For women undergoing fertility treatments, being asked to put off procedures for months or even weeks can irrevocably hurt or even eliminate their chances of starting or growing their families. That's why The RMA Network, a leader in fertility treatments, is committing to keeping its doors open during the COVID-19 pandemic and beyond.
During this time, RMA will continue to provide its full range of fertility services while safeguarding the health and well-being of patients and staff. Amidst recommendations to close or limit fertility treatments, and as other clinics close and halt services altogether, RMA will continue to offer patients its family-building programs.
"We here at RMA Network remain completely committed to serving the needs of our patient population," said RMA founding partner Dr. Richard Scott. "We know that time is a luxury many of our patients do not have when it comes to their family-building efforts. We have no intention of closing."
For patients, the opportunity to continue fertility treatments during this time is a life-changing opportunity.
"I am so relieved RMA has made it possible for me to continue during this very trying time," said Elizabeth, an RMA patient. "I can't express enough how appreciative I am to everyone there."
To learn more about The RMA Network and its work on the frontlines of fertility services, check out the article "Expert Insight Into the Current State of IVF," featuring RMA reproductive endocrinologist Dr. Shefali Shastri, in Mediaplanet's recent Journey to Parenthood campaign, which can be found online at FutureofPersonalHealth.com/campaign/Journey-to-Parenthood.
About Mediaplanet
Mediaplanet specializes in the creation of content marketing campaigns covering a variety of industries. We tell meaningful stories that educate our audience and position our clients as solution providers. Our unique ability to pair the right leaders with the right readers, through the right platforms, has made Mediaplanet a global content marketing powerhouse. Our award-winning stories have won the hearts of countless readers while serving as a valuable platform for brands and their missions. Just call us storytellers with a purpose. Please visit http://www.mediaplanet.com for more on who we are and what we do.
Press Contact:
Chloe Addleson
chloe.addleson@mediaplanet.com
561-235-1227