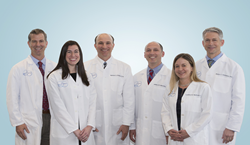 "We are delighted to partner with one of the most established fertility benefit management companies in the nation," said Robin Mangieri, CEO, RMA of Connecticut
NORWALK, Conn. (PRWEB) February 06, 2019
RMA of Connecticut, a leading fertility practice whose exceptional quality and care helps couples and individuals grow their family, has announced a partnership with WINFertility, the nation's largest fertility benefit management company. Through the partnership, RMA of Connecticut will be able to provide affordable fertility care to WINFertility clients, which include employer groups and health plans. These patients will now have even more access to highly credentialed fertility specialists and one of the most advanced IVF labs in the Northeast.
"We are delighted to partner with one of the most established fertility benefit management companies in the nation," said Robin Mangieri, CEO, RMA of Connecticut. "Partnering with WINFertility allows us to provide fertility care to even more patients in our region, which is a huge priority for us."
"We are excited to be working with RMA CT, one of the premier fertility clinics in the Tri-State area," said Becky Waldman, Vice President Clinical Services and Quality Assurance, "With multiple locations and fantastic doctors, WIN patients have even more choice in high quality fertility treatments."
RMA of Connecticut has six Board-certified reproductive endocrinologists on staff, five of which were recently awarded "Top Docs" by Castle Connolly and is the only practice in the State of Connecticut where every patient has direct access to a multi-disciplinary care team for their entire journey. WINFertility provides personalized guidance and support to its patients. Their Nurse Care Managers help patients select the right quality provider, navigate the fertility healthcare system and understand their fertility benefits.
For more information on RMA of Connecticut, click here or visit http://www.rmact.com.
About Reproductive Medicine Associates of Connecticut (RMA of Connecticut)
RMA of Connecticut is a leader in fertility care, specializing in a range of infertility treatments. Our assisted reproductive technologies (ART) include intrauterine insemination (IUI), in-vitro fertilization (IVF) and pre-implantation genetic testing (PGT). RMA of Connecticut is Fairfield County's largest fertility clinic and egg donation center. Through RMA of Connecticut's Integrated Fertility and Wellness Center, we offer nutrition counseling, individual and couples psychological counseling, acupuncture and yoga, as well as financing and support services for our patients going through infertility treatment.
Our internationally recognized Gay Parents To Be® program at RMA of Connecticut specializes in LGBTQ family building. In 2017 and 2018, RMA of Connecticut was recognized as a Leader in Healthcare Equality by the Human Rights Campaign.
The RMA of Connecticut team includes lead physicians Drs. Mark P. Leondires, Spencer S. Richlin, Joshua M. Hurwitz, Cynthia M. Murdock, Shaun C. Williams, as well as fertility specialist, Dr. Ilana B. Ressler. All six physicians are Board-Certified Reproductive Endocrinologists and are members of the American Society for Reproductive Medicine (ASRM). Our team of doctors are named as Castle Connolly "Top Doctors" and are members of the Society for Assisted Reproductive Technology (SART). RMA of Connecticut's IVF laboratory is accredited by the College of American Pathologists (CAP), and CLIA. Other accreditations include the Accreditation Association for Ambulatory Health Care (AAAHC). RMA of Connecticut has offices in Danbury, Norwalk, Stamford, Trumbull and Poughkeepsie, New York. For more information visit http://www.RMACT.com or find us on Facebook.
About WINFertility
For more than twenty years, WINFertility has been the national leader in managed fertility benefits. The company has worked with hundreds of thousands of patients, revolutionizing the delivery of fertility treatments. Today, with a mission to help build families by improving access to the best doctors, technology and emotional support, WIN delivers family-building benefit solutions to employers, health plans and individual patients.
WIN's managed fertility programs include an integrated medical and pharmaceutical model that is unique to the industry. Its Nurse Care Managers, all with experience in reproductive endocrinology clinics, guide employees and members through every step of their fertility journey, and are available 24/7. WIN focuses on improving clinical outcomes. This means safer pregnancies, reduced healthcare costs, and the best use of employee benefit dollars. Visit http://www.winfertility.com for more information.