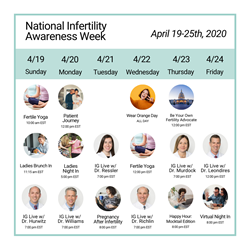 "We know that the global pandemic has caused interruptions, heartbreak, and more uncertainty than ever before, and that's why our online programming for #NIAW is more important than ever," said Robin Mangieri, CEO of RMA of Connecticut
NORWALK, Conn. (PRWEB) April 21, 2020
RMA of Connecticut, a leading fertility practice whose exceptional quality and care helps couples and individuals grow their family, has announced they have begun an educational online programming initiative to help support National Infertility Awareness Week (NIAW/ April 19th - 25th).
RMA of Connecticut's NIAW online programming initiative will include:

Patient success stories
Virtual advocacy - RESOLVE's #wearorange campaign
Live, online events including some of RMA of Connecticut's popular programs such as Fertile Yoga and Ladies Night In
A daily interactive interview series on Instagram Live with each of RMA of Connecticut's six Board-certified reproductive endocrinologists who will share important information on a different topic each day pertaining to infertility. Topics covered will include egg freezing, IVF, IUI/Ovulation induction, donor egg, donor sperm, surrogacy, embryo testing, PCOS, and more.
"National Infertility Awareness Week has always been a huge event for our family here at RMA of CT," said Robin Mangieri, CEO of RMA of Connecticut. "We know that the global pandemic has caused interruptions, heartbreak, and more uncertainty than ever before, and that's why our online programming for #NIAW is more important than ever. We hope you'll join us online and #wearorange to support #NIAW."
Started by the advocacy group Resolve, National Infertility Awareness Week is a "national movement" with the mission of eliminating the stigma of infertility, spreading awareness, and creating more conversation around the disease.
To access RMA of Connecticut's schedule of events, please visit: https://www.rmact.com/niaw2020
About Reproductive Medicine Associates of Connecticut (RMA of Connecticut)
RMA of Connecticut is a leader in fertility care, specializing in a range of infertility treatments. Our assisted reproductive technologies (ART) include intrauterine insemination (IUI), in-vitro fertilization (IVF) and pre-implantation genetic testing (PGT). RMA of Connecticut is Fairfield County's largest fertility clinic and egg donation center. Through RMA of Connecticut's Integrated Fertility and Wellness Center, we offer nutrition counseling, individual and couples psychological counseling, acupuncture and yoga, as well as financing and support services for our patients going through infertility treatment.
Our internationally recognized Gay Parents To Be® program at RMA of Connecticut specializes in LGBTQ family building. For the last three years, RMA of Connecticut has been recognized as a Leader in Healthcare Equality by the Human Rights Campaign.