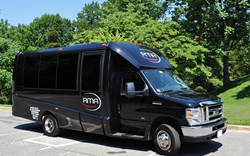 "For employees working or living in large cities, traveling to and from work can create a unique challenge," said Robert Alexander, CEO of RMA Worldwide Chauffeured Transportation. This is precisely why we created a flexible and safe back to work travel and transportation program."
ROCKVILLE, Md. (PRWEB) February 08, 2021
RMA Worldwide, a leading private transportation company, announced this week their new back to work transportation program. Designed to provide a safe, comfortable, and stress-free experience, the new transportation program will help ensure a smooth transition as workers return to the office.
In addition to chauffeured sedans and charter services, RMA Worldwide offers shuttle services for essential workers. On request, the Company can pick-up multiple passengers and return them safely to commuter lots.
"For employees working or living in large cities, traveling to and from work can create a unique challenge," said Robert Alexander, CEO of RMA Worldwide Chauffeured Transportation. "Driving themselves is not always an option and public transportation increases the chance of COVID-19 infection. This is precisely why we created a flexible and safe back to work travel and transportation program."
Many workers experience anxieties over public transportation. Even those familiar with public transit may find it difficult to return to crowded vehicles during this stage of the pandemic. Even after the public health emergency has ended, it will likely take some time before people feel comfortable traveling in large groups of strangers.
For most Americans, avoiding public transportation isn't realistic or practical. Traveling to work alone increases the number of cars on the road. This impacts commute time, increases employee stress and tardiness. Traveling alone also increases the amount of parking required at office buildings and other commercial locations.
Several employers have already taken advantage of back to work transportation programs like those offered by RMA Worldwide. These programs minimize the number of cars on the road while keeping employees safe and comfortable. Transportation programs reduce employee absences and tardiness and improve employee retention. Employers that offer these types of services may find it easier to recruit new employees.
Chauffeured transportation services reduce COVID-19 transmission in the workplace. Employees that travel via shuttle or other form of chauffeured transportation have limited exposure to other passengers. Professional chauffeurs must follow strict rules and requirements to prevent the spread of disease.
RMA Worldwide Transportation is taking several steps to ensure the health and safety of their passengers. All RMA Chauffeurs wear face coverings and wipe down all high touch surfaces between trips. The Company uses electrostatic disinfecting sprayers to clean and sanitize vehicles between passengers. During travel, passengers must wear a face covering as required by the Federal mask mandate for transportation. RMA provides disposable face coverings for travelers on request.
About RMA Worldwide Chauffeured Transportation
RMA Worldwide provides professional transportation services to individuals and businesses around the world. RMA utilizes state-of-the-art technology and an extensive fleet of luxury and executive-style vehicles to deliver quality and reliable service to a wide range of clients. The Company offers on-demand chauffeured services, shuttle service, point to point transfers, and charter services. RMA's commitment to quality and customer service has enabled the Company to become a leading transportation provider throughout much of the world.
For more information about RMA Worldwide, please visit their website at https://www.rmalimo.com/.