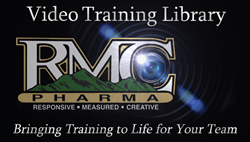 RMC has developed GxP topic specific video training modules presented by seasoned industry professionals. Each module utilizes 4K production techniques which include informative graphics, industry scenes and real life examples. The rental platform is designed to fit your schedule and budget.
LONGMONT, Colo. (PRWEB) August 08, 2018
RMC Pharmaceutical Solutions expands its industry leading Bolt-on CMC™ expert services platform by combining its deep pharmaceutical compliance and technical expertise with professional video production to offer a convenient, cost-effective approach to help you meet periodic pharmaceutical GxP training requirements.
Bringing training to life for your team means making contemporary and engaging training videos conveniently available to your team – to fit with their schedules and at prices which keep your training budgets under control.
These professionally produced videos present succinct GxP training topics in a captivating fashion – by combining high quality video recorded of concise presentations with informative graphic and enhanced with supportive video from real industry settings.
According to Timothy Reinhardt, video library content director at RMC, "these training videos are designed to be the opposite of the commonly available audio 'training recordings' – which can be long, dry and sometimes nothing more than an audio recording of someone reading through a basic slide deck. RMC training series videos cover current topics in a more engaging, but concise fashion – with most videos between 20-40 min in length. Ensuring the training fits into busy work schedules, while engaging the viewer's full attention."
RMC training library videos are available for purchase or rental – and for rental options, have no limitation on the number of different personnel you can have view the video or how many times the video can be viewed during the rental period. All training videos come with a PDF copy of the presentation details – and more importantly, come with a copy of a quiz and answer key to allow you to easily document that your personnel have successfully grasped the training topic as presented.
As an added feature, all training videos offer the option of scheduling a live on-line meeting with a trainer for Q&A on the presentation.
Contact RMC today to learn more about its expanding pharmaceutical video training library and how it can cost-effectively support your GxP training requirements.
About RMC Pharmaceutical Solutions, Inc.
Founded in 2004, RMC is the privately-held global leader providing Bolt-on CMC™ expert services to the pharmaceutical, biotechnology, medical device and allied industries. RMC was founded to provide comprehensive services to companies developing and commercializing healthcare products and has now served more than 150 different clients across North America, Europe and Asia. Through our Bolt-on CMC™ expert services offering, RMC provides an experienced integrated team to directly support Chemistry, Manufacturing and Control (CMC) areas such as process, analytical and formulation development; quality control/quality assurance; and oversight of GMP manufacturing. RMC experts also support the full range of pharmaceutical development and commercialization GxP activities. Our clients have access to the considerable expertise of the RMC team, as well as physical assets; including a process development laboratory, document management, and advanced software tools.
For more information about RMC and how we can help you, please visit http://www.rmcpharma.com