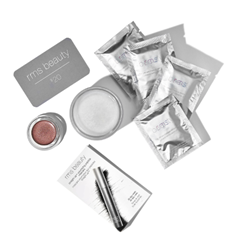 LOS ANGELES (PRWEB) April 22, 2021
Since its establishment in 2009, RMS Beauty has striven to embrace clean beauty and set higher standards across the industry. This Earth Day the designer cosmetic manufacturer is pleased to announce the availability of a limited-time Earth Day Gift with any $75 purchase, and an additional $20 gift card included with all purchases of $95 or more. To reach $75 customers will also have access to a three-item Living Beauty Set which can be customized in a number of colors; all bundles are limited to one per customer and only available while supplies last.
The Earth Day Gift will be available with all purchases of $75 through April 23rd at 11:59 PST, and includes a full-sized raw coconut cream, a full-sized eye polish in "magnetic," and four ultimate makeup remover wipes and a preview sample of their newest mascara, Straight Up, launching in May. To compliment this offer, RMS is also launching the limited-time Living Beauty set for $75, which will help customers qualify for the Earth Day Gift. This Living Beauty set includes a Buriti Bronzer, and both a Lip2Cheek and Luminizer that can be ordered in customized shades and tailored directly for you. In addition, those who spend an extra $20 will get a $20 gift card back, as a complimentary gift on all orders of $95 or more. These items are all made in accordance with RMS' standards for clean beauty, meaning they are free of cruelty testing on animals, gluten, synthetic fragrances, GMOs, paraben, nano, sulfate, phthalate, and talc.
With over 36 years of experience in the beauty industry, RMS Beauty founder Rose-Marie Swift has worked tirelessly to create cosmetics that do not compromise on performance or the environment. In 2009 when she founded RMS, Swift said that "Eventually the clean beauty industry will just become… the beauty industry" and has spent every day since then making that a reality. Now, using the highest-quality, clean ingredients, Swift and RMS meticulously source every material used to provide superior formers that are also clean and lively, making the wearer feel the same. In her own words, "Pairing the highest quality ingredients in their purest and most natural state is at the core of everything I create." These include living ingredients like buriti oil, organic coconut oil, vitamin E, rosehip oil, and more, all working together to help deliver both performance and sustainability.
Subscribers to RMS' email offerings will be sent complimentary videos of RMS ambassadors Amy, Zoe, and Katie demonstrating these products, and showing how beauty can be achieved without sacrifice to the environment. These emails will also contain an exclusive preview of the upcoming Straight Up™ Volumizing Peptide Mascara, which will be launching in May of 2021.
Founded by Rose-Marie Swift in 2009, RMS Beauty works to deliver the highest standards of clean beauty without sacrifice to performance or the environment. As the creators of Luminizers, Lip2Cheek, and "Un" Cover-Ups, RMS constantly innovates the skincare and beauty spaces to redefine how products enhance skin. Those wanting to shop from a variety of clean cosmetic and skin care products can visit https://www.rmsbeauty.com/ and see examples of them on display on Facebook, Twitter, Pinterest, Instagram, or YouTube.