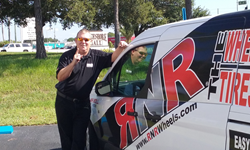 I have already hired a team that understands how important our clients are.
Tampa, Florida (PRWEB) September 01, 2015
Sebring, Florida is nicknamed "The City on The Circle", in reference to Circle Drive, the center of the Sebring Downtown Historic District and is the home of the Sebring International Raceway. With circles and raceways, it is fitting that Sebring will also be the newest home of a RNR Tire Express and Custom Wheel location. And for Kelly Pierce, his long history with RNR and wait for the right opportunity has finally arrived.
"I have had this goal since I was 19 years old and cleaning appliances in my Uncles traditional rent to own business," said Kelly. "I was actually the first employee for RNR back in 2000 and realized that this industry is where I was going to build a career." His uncle and Founder of RNR, Larry Sutton provided his introduction to the Rent-To-Own industry. "I knew right away that Kelly was going to be a star in our system," said Larry Sutton, CEO and Founder of RNR. "He wanted to make a difference in our customers lives and accomplished this by learning every facet of the business and I am so excited that he finally has reached his goal of a partnership in his own store in our system." Kelly was instrumental in the early development of the model and created and wrote the original training manuals and first jingle back in 2001.
"The Sebring market is so excited to have us in the community," said Kelly. "I have already hired a team that understands how important our clients are and how focused we are as a business on the customer experience." RNR offers customers a number of payment options to own passenger tires and custom wheels.
"We had our eye on Sebring for some time and thought it would be a perfect place for us and the fact that Kelly had interest in opening a location there is a huge advantage for us as he knows and understands the industry as well as anyone in our system," said Larry. "We think that the community will embrace the RN brand, and Kelly and his team are the perfect people to introduce the RNR concept to the area."
The new location will open in late September and is located at 585 U.S Hwy 27 North in Sebring, Florida. You can reach the store at 863-703-4444 or email at sebring(at)rnrwheels(dot)com.
The RNR Experience
RNR customers are provided a program that allows them to pay for the custom wheels and tires that they want in easy weekly, bi-weekly or monthly installments with no credit hassles. In addition, customers are offered the lowest cash prices on wheels or tires and have a huge selection of both new and previously rented merchandise. RNR carries just about every major brand in the custom wheel and tire industry, including: Dub, KMC, Lexani, Michelin, Goodyear and many more. For Information on RNR, contact our Corporate Offices at 813.977.9800.
About RNR Franchise
Headquarted in Tampa, Florida, RNR Tire Express and Custom Wheels operates tires and wheels stores and has become a dominant force in the wheel and tire industry by offering retail, rent-to-own and other payment options to those who want to own custom wheels and quality tires. Our innovative approach combines 40+ years of rent-to-own experience with extensive knowledge of the wheel and tire industry. RNR currently operates franchise locations in 21 states and has eight affiliate stores in Tampa, Florida. For additional information on franchising, contact John Armatas at 855.844.8377 or visit our franchise website at http://www.rnrfranchise.com.