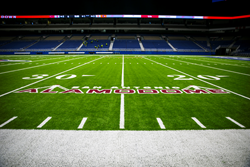 SAN ANTONIO (PRWEB) November 16, 2020
The University of Texas at San Antonio (UTSA) broke ground for the state-of-the-art Roadrunner Athletics Center for Excellence (RACE) in March. This facility includes two practice football fields, one synthetic turf and the other natural grass. When searching for a synthetic turf partner UTSA looked no further than Hellas Construction.
"The ongoing construction of our new RACE facility continues to be a shining light during these challenging times," says UTSA Vice President for Intercollegiate Athletics Lisa Campos. "We're so excited that by next summer our students, coaches and staff will have access to a first-class facility that will include two practice fields," Campos added.
Hellas Construction installed FusionHXP2™ turf at the Alamodome, home of UTSA Football prior to the 2019 season and the university wanted the same surface for their practice facility. FusionHXP2 is a combination of extremely durable and resilient monofilament fibers with Helix shape memory technology and the traditional slit-film fibers. The installation is scheduled to be completed in April of 2021. The Roadrunners are currently 3-1 at the Alamodome as of November 13.
"We have been very satisfied with our Alamodome playing surface that Hellas installed prior to the 2019 season, so we have the utmost confidence that our new synthetic practice field will be of the same superb quality," Campos added.
In addition to the practice fields RACE will feature locker rooms, a sports medicine center, and strength and conditioning facilities in addition to academic study spaces for student-athletes and offices and meeting rooms for coaches and athletics staff. Once completed in 2021, the nearly 95,000-square-foot facility will provide UTSA student-athletes, coaches and staff with one of the most advanced athletics facilities in Conference USA.
Hellas Construction, headquartered in Austin, TX, is the nation's largest sports contractor and was recently included in the famed Inc. 5000 list of America's Fastest Growing Companies. UTSA is one of four Conference USA schools either that play or practice on turf manufactured and installed by Hellas Construction. University of Southern Mississippi and the University of North Carolina at Charlotte play their home games on Hellas and the University of Alabama at Birmingham practices on Hellas turf.
Hellas Construction, Inc. headquartered in Austin, TX, is the largest vertically-integrated sports construction contractor in the United States, specializing in the general construction of sports facilities and sports surfaces. Hellas champions innovative artificial turf manufacturing, base construction, field, track and tennis planning, along with installation and maintenance. hellasconstruction.com
The University of Texas at San Antonio is dedicated to the advancement of knowledge through research and discovery, teaching and learning, community engagement and public service. As an institution of access and excellence, UTSA embraces multicultural traditions and serves as a center for intellectual and creative resources as well as a catalyst for socioeconomic development and the commercialization of intellectual property - for Texas, the nation and the world.