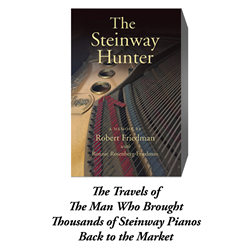 The first time I located and sold a piano was in 1971. From that first piano buy, the stories began. The tales unfolded from every discovery, each journey and all the people who were involved in the history of that piano.
RHINEBECK, N.Y. (PRWEB) May 19, 2021
Thomas Edison, the inventor, wrote to Steinway & Sons in June of 1890:
"I have decided to keep your grand piano. For some reason unknown to me it gives better results than any so far tried. Please send bill with lowest price."
Edison paid $725 for an Ebonized Grand Model B piano, 6' 10 1/2" in length, and it changed hands two more times before Robert Friedman tracked it down. Friedman, aka The Steinway Hunter, is famous in the industry for procuring, sometimes restoring, and ultimately finding the correct placement for previously owned Steinway pianos. The Edison piano holds special meaning for him:
"It still has all the original dings and scratches and is one of the most historical Steinways in existence. I am the fourth owner of the piano and we have all the paperwork that followed the piano around during its life. I do believe that the piano should stay in New York because it is part of New York history and part of Steinway history, and Steinway is New York. That is where the piano was manufactured. I don't exactly know where it'll go - it might end up in my home."
Robert Friedman has had a fascinating career hunting down Steinway pianos that have been lovingly cared for – and sometimes neglected – over their long, long lives. For over 40 years he has helped these musical treasures find their place in the hearts and homes of new owners worldwide. With thousands of people in his professional network, his search for Steinways manufactured from 1853 to the present is never ending. As one might expect, his stories of the hunt abound, and so, in 2019 he published a collection of these tales as "The Steinway Hunter: A Memoir" (Epigraph Books).
Robert Friedman is passionate about his book and his lifelong work with pianos. He is featured in a recent episode of LivingPianosVideos, interviewed by concert pianist Bob Estrin, as "Man of 1,000 Steinways: The Steinway Hunter!"
"Dear Bob… thanks so very much for helping me get my dream Steinway. I love it!!"
-- Olivia Newton-John
"Bob Friedman's legacy as the Steinway Hunter has no doubt connected more Steinways with more people than anyone else. His quest embodies the fascination of a child finding a great treasure, only to share it enthusiastically with his friends seeking the same. His heart of compassion, integrity, and sense of fair play all speak of his love of people, pianos, and piano-craft."
-- Dale S. Erwin, Piano Technicians Guild Registered Piano Technician, who custom designs soundboards – the heart of the piano - for the majority of the premier Steinway rebuilders in the US.
About the Author
Part treasure hunter, part problem solver, and part keen observer of human nature, Robert Friedman has spent decades buying, restoring, and finding new homes for pianos built by one of the finest manufacturers in the world: Steinway & Sons. He divides his time between Florida and Upstate NY with his wife and collaborator, Ronnie Rosenberg-Friedman.
To arrange interviews with the author or to request review copies of "The Steinway Hunter," please contact: steinwayhunter@gmail.com
To learn more, visit TheSteinwayHunter.com and follow us on Facebook.
Available now at Amazon, Barnes & Noble, Indiebound and Bookshop.
For more information about the publisher, visit Epigraph Books.