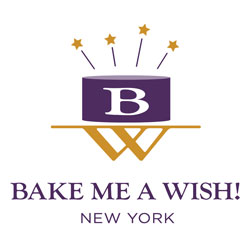 "We are all missing that human connection, and it's important to keep that relationship up with your customers, colleagues and loved ones. Bake Me A Wish! has customized and simplified gifting for companies." - Robert Herjavec
NEW YORK (PRWEB) September 16, 2020
BakeMeAWish.com, the leading national online gourmet gifting company, announces that Robert Herjavec, investor on ABC's Shark Tank has enlisted Bake Me A Wish! to roll out custom branded gifts filled with fresh-baked treats for the holidays to rejuvenate and enhance corporate relationships. Bake Me A Wish! has solved a major barrier to corporate gifting this holiday season with a seamless, virtual gift certificate solution that allows employees and clients to receive gifts wherever they are.
Robert Herjavec, has chosen Bake Me A Wish! as his preferred gifting company for the holidays. As many companies are still in a remote work scenario, Robert was looking for a meaningful way to connect with individuals that brought a unique experience the whole family could share.
"Businesses have had to adapt to meet the new needs of their customers. We are all missing that human connection, and it's important to keep that relationship up with your customers, colleagues and loved ones," said Herjavec, "Bake Me A Wish! has customized and simplified gifting for companies. You simply send an email - they follow the link to redeem their gift on your branded Bake Me A Wish! page and the next thing you know they've got customized treats delivered right to their doorsteps."
Companies can get started with the new Bake Me A Wish! corporate custom branded holiday gifting solution in three simple steps:
● Sign up to create a custom branded portal that recipients can access to redeem their gifts - bakemeawish.com/certificates
● Select your gifts from a single price band or create multiple gift tiers based on your list; options include gluten free and fruit options - Gift codes are unique to the recipient and good for one gift
● Email certificate codes to your recipients via form mail or personalized messages - Bake Me A Wish! provides recommended emails and a list of codes
"Bake Me A Wish! understands that we need new thinking on how to function and maintain positive relationships in our virtual economy," said Joseph Dornoff, President of Bake Me A Wish! "My team and I are dedicated to creating real-world solutions that help companies prosper and grow."
Celebrating 15 years of online nationwide gourmet gifting, Bake Me A Wish! offers custom-bakery gifts for businesses, including exclusive items like a keepsake wooden crate, filled with sweet treats, with the company's name emblazoned into the wood. For the employee or a client's holiday table, businesses can emphasize their message of appreciation with an old-fashioned apple pie, to be shared with family and friends, or a tower brimming with fresh baked cookies and brownies. At Bake Me Wish!, there's a gift for every occasion!
To learn more about the unique ways businesses can show appreciation for clients, employees and potential customers, and for a special discount code, visit http://www.bakemeawish.com and Robert Herjavec's Instagram or LinkedIn profile @RobertHerjavec. Bake Me A Wish! offers guaranteed next day delivery.
On social media, visit @BakeMeAWish and @RobertHerjavec
Hashtag: #bakemeawish #BusinessEmpowermentFund
About Bake Me A Wish!
Bake Me A Wish! was founded in 2005 with the mission to deliver divinely crafted birthday cakes and gourmet baked goods to anyone across the United States, wherever they are. BakeMeAWish.com features delicious gourmet dessert options including sumptuous recipes, personalized greeting cards and elegant packaging. 15 years later, Bake Me A Wish! offers a magnificent lineup of other mouthwatering bakery treats including cookies, brownies, cupcakes, and pies. They have expanded their offering even further with gorgeous snack and fruit baskets. Bake Me A Wish! has become the go-to source for people in need of high-quality baked goods, and is excited to help make your gifting dreams come true. Bake Me A Wish! is located in New York, New York and delivers throughout the country.