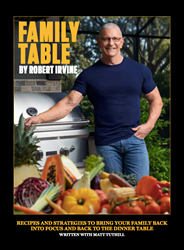 Family Table is my urgent call for families to refocus on what's most important, which is family, and in my experience, a strong family connection starts in the kitchen.
NEW YORK (PRWEB) November 27, 2018
Recognized for his tough-love tactics on top Food Network shows Restaurant: Impossible, Dinner: Impossible and Worst Cooks in America, celebrated chef and culinary personality Robert Irvine turns his focus to family with his new book, Family Table. Developed from his experience raising his own family in today's digital age, along with support from distinguished writer Matt Tuthill, Family Table brings together more than 70 of Robert's all-time favorite family-style recipes and shares insight about how to create strong family bonds by coming together in the kitchen and at the table. Pre-sale launched Friday, November 23 at http://www.familytablebook.com and on Amazon.com. The book will be released in January 2019.
"Now more than ever, distractions are all around us – we're drowning in technology and inundated with voices other than our own and those closest to us," said Chef Irvine. "Family Table is my urgent call for families to refocus on what's most important, which is family, and in my experience, a strong family connection starts in the kitchen."
Chef Irvine's first-ever family-focused book, Family Table, is filled with over 70 family-friendly recipes for breakfast, main dishes, sides, starters, and desserts, all illustrated with realistic photography and step-by-step instructions. Each recipe is easy to prepare and is derived from Chef Irvine's personal reflections on creating family bonds in the kitchen and at the dinner table. From Sunday Morning Muesli to his all-time favorite Fish & Chips, Chef Irvine shares an extensive selection of recipes that appeals to the varying tastes of each family member.
In between recipes, Chef Irvine offers his tried-and-true advice to limit screen time, keep the family physically fit, get kids interested in healthy nutrition and serve balanced and delicious meals – all while forging stronger family bonds. The book also features never-before-seen family photos from Chef Irvine's personal albums.
This is Chef Irvine's fourth book, in addition to Impossible to Easy and Mission: Cook!, which presented recipes inspired by his world travels and cooking challenges on Dinner: Impossible, and Fit Fuel, which shared his love for cleaner food, workouts and motivational advice.
Family Table currently retails for $30 (post pre-sale, $34.99) at FamilyTableBook.com. A portion of the book's proceeds will support the Robert Irvine Foundation, a not-for-profit organization founded by Chef Irvine that support the individuals and organizations committed to enriching the lives of our military personnel (active, retired and veterans) and their families.
About Robert Irvine
With more than 25 years in the culinary profession, Chef Robert Irvine has cooked his way through Europe, the Far East, the Caribbean and the Americas, in hotels and on the high seas. As the host of one of the Food Network's highest rated shows, Restaurant: Impossible, Irvine saves struggling restaurants across America by assessing and overhauling the restaurant's weakest spots. Irvine was previously the host of Food Network's Dinner: Impossible and Worst Cooks in America, has authored two cookbooks, Mission: Cook! and Impossible to Easy, and one healthy living book, Fit Fuel: A Chef's Guide to Eating Well and Living Your Best Life. Irvine is currently on tour with his new, interactive live show Robert Irvine Live, and appears regularly as an expert guest on national morning and daytime talk shows. In 2015, Irvine launched Robert Irvine Foods, a company that features a nutritionally improved line of food products without compromising great taste. Irvine recently established the eponymously named non-profit organization, The Robert Irvine Foundation, in an effort to support military personnel and their families. For more information on Chef Robert Irvine, visit http://www.ChefIrvine.com.