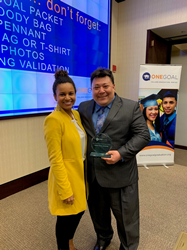 "The partnership Robert Morris University has formed with OneGoal has been invaluable for this group of students." --Carolyn Smith, Executive Director for Advancement at Robert Morris University Illinois
CHICAGO (PRWEB) April 03, 2019
At its Fifth Annual Partner Appreciation Breakfast at Chicago's Northern Trust, OneGoal honored Robert Morris University Illinois with the Post Secondary Partner of the Year Award.
OneGoal is a not for profit organization which works closely with public schools in low-income communities to help make college graduation a reality for all students. It provides curricula, technology, training and coaching to assist cohorts of students from their junior year in high school through their first year of college. RMU's Executive Director of Advancement Carolyn Smith and Vice President for Admissions and Recruitment Andy Berger represented the University at the March 26 event.
Robert Morris has worked with OneGoal to facilitate this transition with tuition assistance, academic advising and the development of close relationships with each student in its cohort. "The partnership Robert Morris has formed with OneGoal has been invaluable for this group of students," explained Carolyn Smith. "RMU's New Era Scholarship Fund has provided financial aid, we have a specific group of staff and faculty members who closely monitor each student's progress and needs, and we recognize each milestone they complete. Our goal and OneGoal's objectives for these students are one in the same – a college diploma."
Robert Morris University Illinois is one of 17 post secondary institutions in the Chicagoland involved with OneGoal. "We are honored to be recognized as this year's Post Secondary Partner of the Year," added Vice President Berger.
Robert Morris University is a not-for-profit, baccalaureate and graduate degree granting institution, accredited by the Higher Learning Commission of the North Central Association of Colleges and Schools.* The University serves students interested in getting an education in business, graphic arts, nursing and health care, culinary and computer studies at its main campus in Chicago, as well as at locations in Arlington Heights, Elgin, Orland Park, Springfield, Peoria, and Lake County. For more information, call 800-RMC-5960 or visit the web site at http://www.robertmorris.edu
*Higher Learning Commission of the North Central Association of Colleges and Schools, 30 N. LaSalle Street, Chicago, IL 60602, 312-263-0456.