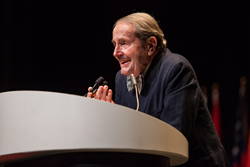 I have been a photographer for 70 years...and still going at it.
Atlanta, GA (PRWEB) January 13, 2017
Robert Freson was awarded Professional Photographers of America's Lifetime Achievement Award during the Award & Degree ceremony at Imaging USA 2017 in San Antonio. Freson is only the fifteenth photographer to ever receive the honor in PPA's 148 history. He has been a professional photographer for more than six decades, making iconic photographs of countless famous figures—Salvador Dali, Marc Chagall, Sophia Loren, Alfred Hitchcock, Dwight D. Eisenhower—as well as many noteworthy events, such as Winston Churchill's funeral and the nuptials of Prince Charles and Lady Diana. In addition, he's known for food photography (The Taste of France) and destination photography (including Jamaica and Bermuda tourism campaigns).
"This is remarkable for me and quite unexpected," Freson said, reflecting upon winning the Lifetime Achievement Award. "I have been a photography for 70 years and still going at it."
Freson began his career in 1948. After surviving Germany's occupation of Belgium and serving in the British navy, he obtained his master's degree in photography in Switzerland. Freson and his wife then immigrated to the United States, where, a few days after dropping his portfolio at Vogue, he received a telegram inviting him to work under noted photographer Irving Penn. In 1962, after 13 years with Penn, Freson set out on his own as a photojournalist capturing images for The Sunday Times Magazine, Look, Vogue, Esquire, National Geographic, Conde Nast Traveler, Gourmet, and other publications. For 40 years he kept a studio in Carnegie Hall and one in Europe, traveling back and forth on assignment. In 1982, he wrote the bestselling The Taste of France, which is still in print today. In 1998, he and his wife Jeannette made a home on Bailey Island, Maine, near their daughter Babette.
The PPA Lifetime Achievement Award was presented to Mr. Freson by PPA President Lori Craft, Cr.Photog. Freson explained how the award meant a lot to him coming from, "a remarkable group of people. I'm absolutely amazed by your work." The 30,000 members of PPA say the same about Robert Freson.
About Imaging USA:
Imaging USA is the longest-running international photographic convention, expo and image exhibition in the world. The event dates back to 1880, when it began as the annual convention and trade show for Professional Photographers of America (PPA). More than 10,000 photographers descended upon San Antonio for three days of photography education and inspiration as well as some exclusive photography-related shopping. For more information, visit ImagingUSA.org.
About PPA:
Professional Photographers of America (PPA) is the largest international non-profit association created by professional photographers, for professional photographers. Almost as long-lived as photography itself, PPA's roots date back to 1869. It assists nearly 30,000 photographers through protection, education and resources for their continued success. See how PPA helps photographers be more at PPA.com.