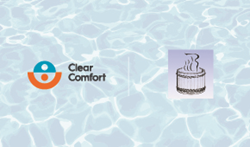 The unique way in which the Clear Comfort AOP system treats the water is safe for our wood tubs, unlike all other traditional chemicals and systems
RICHMOND, Cali., and BOULDER, Colo. (PRWEB) September 03, 2020
Clear Comfort and Roberts Hot Tubs have collaborated to deliver its high-quality, wooden hot tubs with the healthiest, easiest and best-in-class Advanced Oxidation Process (AOP) water treatment. Roberts Hot Tubs' new Clear Comfort offering is available immediately.
"This past year, working with Clear Comfort has been fantastic for us," says Benny Ghelerter, the General Manager of Roberts Hot Tubs. "We tested the AOP system on a challenge tub. The Clear Comfort's AOP worked so well that it eliminated all of the slime on the tub's sides and quickly made the water clearer."
By providing the healthiest water quality with Clear Comfort, Roberts Hot Tubs is enhancing its carefully crafted product line. Roberts Hot Tubs clients can now experience a sustainable hot tub and spa solution that makes water maintenance a breeze. By removing the need to scoop toxic chemicals after every use, Clear Comfort delivers a more sustainable, healthier and easier way to maintain water.
"Additionally, the unique way in which the Clear Comfort AOP system treats the water is safe for our wood tubs, unlike all other traditional chemicals and systems," said Ghelerter.
Clear Comfort's innovative AOP delivers fresh-feeling, low-chlorine water that is non-corrosive for equipment and surfaces of Roberts Hot Tubs' wood construction. Roberts Hot Tubs uses only high-quality woods to offer products in a wide range of spa shapes and sizes. With Clear Comfort, Roberts Hot Tub owners will be able to extend the life of their timeless and beautiful wooden spas.
"Clear Comfort is proud to work with an industry leader like Roberts Hot Tubs to deliver our leading AOP to their customers," said Steve Berens, CEO of Clear Comfort. "Our system provides the best spa experience with drinking water chlorine levels or less making spa care simple and easy with the healthiest water available."
Clear Comfort's hydroxyl-based advanced oxidation systems use the power of hydroxyl radicals to make residential pools and spas safe and enjoyable for today's health-conscious homeowners. Clear Comfort systems are in leading universities, resorts, water parks, YMCAs, hotels, recreation centers, spas and homes nationwide.
For more information on Roberts Hot Tubs' new Clear Comfort AOP offering, please visit: clearcomfort.com/roberts-hot-tubs
About Clear Comfort
Clear Comfort manufactures and sells pool and spa water disinfection systems to enhance recreational water treatment. Clear Comfort's patented hydroxyl-based advanced oxidation (AOP) technology provides the best swimming experience available with proven, effective and non-toxic treatment. With headquarters and manufacturing based in Colorado, Clear Comfort customers receive a sustainable, "Made in the USA" product. Clear Comfort is a proud Impact Driven™ company delivering healthy, ethical and sustainable solutions to the market. For more information about Clear Comfort, please visit clearcomfort.com
About Roberts Hot Tubs
For more than 40 years Roberts Hot Tubs has made a practice of buying the best lumber available. We purchase directly from responsible mills who practice sustainable methods. Though our Western Red Cedar tubs are our most popular models, Alaskan Yellow Cedar and Teak tubs have gained popularity over the years. By offering a variety of tubs with the most diverse choice of species, sizes, and shapes in the world; all of these options can create a variety of different looks to your home. For more information about Roberts Hot Tubs, please visit rhtubs.com