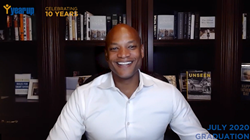 "These young people are ready to lead, and they're ready to not only succeed and thrive in their careers, but to bring others along with them as they shape the world to come," said Moore.
BALTIMORE (PRWEB) July 27, 2020
The nonprofit workforce development program Year Up Baltimore held a virtual graduation ceremony on Friday, July 17th. During the ceremony, Wes Moore, CEO of the Robin Hood Foundation — a top poverty-fighting nonprofit — addressed the graduates and congratulated them on their success.
"These young adults have worked extremely hard over the past year to overcome tremendous challenges," said Wes Moore, CEO of Robin Hood. "I'm thrilled to celebrate everything they've accomplished, and I'm looking forward to seeing what they'll accomplish in the future. These young people are ready to lead, and they're ready to not only succeed and thrive in their careers, but to bring others along with them as they shape the world to come."
Year Up Baltimore has served more than 1,100 students since it launched in 2010, providing them with a semester of in-demand technical and professional skills training followed by a semester-long, credit-bearing internship at a top local company. Interested young adults between the ages of 18 and 26 with a high school degree or GED can schedule an online information session here to begin the application process for the next class.
"For ten years, Year Up Baltimore has connected young people in need of an opportunity with meaningful employment in IT, business and finance," said Duane Reid, Site Director of Year Up Baltimore. "As they launch their professional careers, our graduates will continue to redefine where talent comes from and what it looks like, helping to ensure a more vibrant and equitable economy."
In 2018, the federally-sponsored Pathways for Advancing Careers and Education (PACE) evaluation of Year Up showed a 53% increase in initial earnings for young adults randomly assigned to Year Up compared with similar young adults in a control group—the largest impact on earnings reported to date for a workforce program tested in a randomized controlled trial. Nationwide, 90% of Year Up graduates are employed or attending college within four months of completing Year Up, with average starting salaries of $42,000/year.
About Year Up
Year Up is an award-winning, national 501(c)3 organization that enables motivated young adults to move from minimum wage to meaningful careers in just one year by providing the skills, experience, and support they need to reach their full potential. Through a one-year, intensive program, Year Up utilizes a high-expectations, high-support model that combines marketable job skills, stipends, coursework eligible for college credit, and corporate internships at more than 250 top companies. Its holistic approach focuses on students' professional and personal development to enable young adults with a viable path to economic self-sufficiency and meaningful careers. Year Up has served more than 30,000 young adults since its founding in 2000, and expects to serve 5,000 young adults this year. Year Up has presence in 27 U.S. cities, including Arizona, Baltimore, Bay Area, Charlotte, Chicago, Dallas/Fort Worth, Greater Atlanta, Greater Boston, Greater Philadelphia, Jacksonville, Los Angeles, the National Capital Region, New York City/Jersey City, Pittsburgh, Puget Sound, Rhode Island, South Florida, Tampa Bay, and Wilmington. Year Up has been voted one of the "Best Non-Profits to Work For" by The NonProfit Times. To learn more, visit http://www.yearup.org, and follow us on LinkedIn, Facebook, and Twitter.