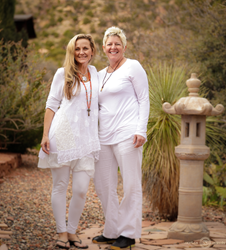 Rock Your Amazing!
SEDONA, Ariz. (PRWEB) August 13, 2018
Joining together this past spring to co-facilitate The Grace Retreat, Anahata Ananda and Robin Rorex are once again combining their expertise to present their second workshop together this year. Held within Sedona, Arizona, the leadership strengthening retreat offers practical tools to teach attendees to thrive in their personal and professional lives.
"Grace is a heartfelt and fierce movement that inspires and empowers you to rise up and speak your truth," says Rorex, primary facilitator of the mindfulness-based leadership development company. The retreat includes structured activities for a maximum of 12 women. Taking place in ceremonial sisterhood circles, attendees learn practices to release fear, healing with the medicine needed to become more whole, discovering one's life-calling and the support system to bring it into fruition. Anahata and Robin teach strategies to awaken inner-wisdom (trusting intuition), wholehearted self-acceptance, claiming power, revealing the authentic self, birthing boundless possibilities and fostering a strong network of women to support each other.
Anahata Ananda will be offering concurrent Shamangelic Healing Journeys to attendees over the weekend on a first come, first served basis. The two-hour session is Anahata's signature private session tailored to address the issues that are most relevant at the time such as emotional wounds, past traumas, spiritual awakening, various relationship concerns, physical health issues, grief, addiction challenges, and life purpose guidance.
Robin Rorex has extensive leadership experience from Nike, being involved in growing the business, building the brand and developing future talent. She is now the President of a mindfulness-based Leadership Development company, Executive Coach, Guide, and Facilitator who inspires humans to hold themselves to a standard of grace, not perfection.
Anahata Ananda has trained extensively with gifted shamans, energy healers and spiritual teachers from around the world to artfully integrate the fields of spirituality, energy healing, self-empowerment and shamanic teachings. Her client-base spans the globe with individuals from all walks of life who are seeking to heal and awaken to their fullest potential.
Anahata offers a variety of Shamangelic Healing services year-round in Sedona, Arizona including private sessions, sacred land journeys and training courses that incorporate Shamanic teachings and other energy healing modalities. She also offers Tailored Retreats for individuals, couples and small groups that can include a combination of offerings based on various needs and areas of interest.
Shamangelic Healing is a premier center for Shamanic healing and spiritual awakening in Sedona. It is nestled beneath Thunder Mountain with breathtaking views and within walking distance to a medicine wheel and healing vortexes, making it the perfect setting for healing and expansion.
For detailed descriptions and a calendar of all training courses and spiritual awakening services offered by Anahata visit http://www.shamangelichealing.com/