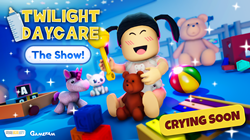 "At Wind Sun Sky we look for content with transformational cross-platform, brand-building potential that challenges us creatively and we can sink our teeth into." said Winder. "Gamefam's Twilight Daycare is the perfect fit - it's a fun, irreverent and hilarious world ripe for storytelling."
VANCOUVER, B.C. (PRWEB) October 14, 2021
Wind Sun Sky (WSS), the leading producer of creator-driven multi-platform entertainment franchises, and Gamefam, the world's first and only fully dedicated Roblox publisher and developer, are combining their areas of expertise to pioneer the forefront of immersive digital experiences. Together they will expand the Roblox gamers journey with the production of a Twilight Daycare digital series this fall.
Twilight Daycare launched in March 2021 and has rapidly grown, reaching a monumental fanbase of more than 3 million unique users on its biggest days. The game invites fans to play as babies, toddlers, or caretakers in an immersive role-play world. In Twilight Daycare, babies rule and caring and nurturing are everything as players experience feeding, changing diapers, toys, learning, and incredible excursions like a trip to the beach and pony rides! Gamefam has a growing portfolio of over 20 live games on Roblox that drive over 500 million monthly gameplay sessions with Twilight Daycare being one of the company's biggest hits, and one of the biggest experiences in the metaverse today.
The Twilight Daycare digital series is the first Roblox game that will be adapted and produced by a team with such a powerful repertoire as this year's global smash-hit "Invincible". Catherine Winder, CEO and Executive Producer of WSS, is no stranger to adapting IPs for the screen. Her background includes expanding the Angry Birds mobile App into the beloved "Angry Birds Movie" and sequel. She also led the team that brought Star Wars into the world of animation with Star Wars: The Clone Wars. Her skilled team of creatives are at the helm of paving the path of immersive Roblox experiences, starting with the Twilight Daycare Digital Series.
"At WSS we look for content with transformational, cross-platform, brand-building potential that challenges us creatively and we can sink our teeth into. Taking Roblox content and elevating it to other platforms called out to our team as our next adventure." said Winder. "Gamefam's Twilight Daycare is the perfect fit- it's a fun, irreverent and hilarious world ripe for storytelling."
"Roblox truly is the metaverse for this younger generation," said Gamefam CEO Joe Ferencz, "And what that means is we have the opportunity and privilege to create hits like Twilight Daycare, that provides millions of hours per week of incredible fun for tens of millions of players all over the world. Now, through partnering with Wind Sun Sky, true innovators of adapting content across digital platforms with global IPs, we're extending the Twilight Daycare Roblox experience and inviting fans to engage with the property in a brand new, delightful way that highlights the IP creation opportunities in the metaverse - this is where the next generation of super hit franchises will come from and we're so excited to be pioneers in bringing that to life with Wind Sun Sky."
Social simulation metaverse games, such as Twilight Daycare, empower players to make their own decisions and define their own narrative. For the first time, that feeling will be replicated within a digital series, as players' gameplay in Twilight Daycare will impact each episode. Truly offering fans a direct way to engage, and see their stories come to life.
"WSS is leading the way in the digital, multiplatform world - from superheroes on Amazon Prime to live animated Singing Monsters on YouTube, we're coming at this from all angles. Having the opportunity to reach a new, built in audience that already loves this franchise is a dream come true. These fans are already excited, and together with Gamefam, we're able to expand, immerse and engage this audience in a whole new way to bring them something truly game changing." said Winder.
Explore Gamefam at https://gamefam.com/. Further information about WSS can be found at https://windsunsky.com. The Twilight Daycaser teaser can be viewed here.
ABOUT WIND SUN SKY ENTERTAINMENT:
Wind Sun Sky Entertainment (WSS) is a Canadian multimedia company led by former LucasFilm executive, Catherine Winder (Invincible, The Angry Birds Movie 1 & 2, Star Wars: The Clone Wars, Robert Kirkman's Secret History of Comics). Based in Vancouver, WSS builds franchises with a focus on creator-driven content for the global marketplace, producing in all mediums including interactive, film, television (live action and animation), podcasts and mobile apps. WSS / Skybound produced and delivered the global hit Invincible, an animated 8 X 1 hr. dramatic adaptation of Robert Kirkman's comic book for Amazon Prime. WSS adapted the successful Canadian mobile game My Singing Monsters (115+ million players), into a toy line with PlayMonster and Commonwealth and produced the first of its kind live interactive animated show My Singing Monsters Fandemonium. They also created Camp Bonkers, a multi-platform property that includes a Roblox Game, kids' variety show on YouTube and Toonavision, an APP which will launch in late 2021 as well as adapting HEXBUG's popular toy line, Junkbots, into a web series and Roblox game. https://windsunsky.com. Press contact: WSS@BrilliantPRM.com.
ABOUT GAMEFAM:
Gamefam is the leading professional publisher and developer of games on Roblox, the world's biggest metaverse platform with 190 million monthly active users. Gamefam's mission is to create amazing experiences for an amazing community and grow the next generation of super hit gaming and entertainment franchises from within the metaverse. Gamefam operates the largest network of games on Roblox with over 500 million monthly visits comprising 83 million hours of engagement across 30+ live games in the company's portfolio. Gamefam's top franchises include Twilight Daycare, Tower of Misery, Car Dealership Tycoon, RoBeats!, Gym Tycoon, Little World, Polybattle, Hot Wheels Open World, and Eating Simulator. The Gamefam team combines the business and production expertise of longtime brand experts and game industry professionals with the metaverse's top creators.
Website: https://gamefam.com Press Contact: press@gamefam.com
###