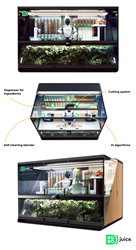 Nik and his team has been able to deftly put together a technical solution that cleverly combines off-the-shelf robotic technology with custom proprietary embedded automation modules and is supported with a holistic full service operating business model
SAN FRANCISCO (PRWEB) April 29, 2021
The U.S. juice and smoothie market has grown to over $18B+ in 2020 and is expected to grow at around 5% CAGR between 2021-2025 according to Research and Markets. This is great news for franchisees who operate traditional smoothie bars such as Jamba Juice, Smoothie King, and Tropical Smoothie Cafe. Smoothie King alone opened a record 263 new locations in 2020. Those who are interested in becoming a franchisee for one of these brands may find that they are unable to afford the heavy upfront investment costs associated with opening a new traditional franchise location. Jamba Juice requires a minimum $350,000 in liquid assets, $1 million net worth, and a commitment to operate 3-5 units according to BuyerZone.
However, the new robotic smoothie kiosk alternative RoboJuice can generate as much revenue as a traditional smoothie franchise at a fraction of the cost. RoboJuice licensee operators have clear and quantifiable advantages. Each robotic kiosk provides a flexible real estate solution, requires a smaller CapEx investment, and greatly reduces exposure to labor and staffing costs as well as food waste. Additionally, the data analytics generated by each kiosk facilitates better sales and marketing programs. Each RoboJuice kiosk can serve a full menu of customized beverages from a 30 square foot space for less than $7,000 dollars in operating costs per month. RoboJuice is disrupting the traditional smoothie and juice franchise market by offering a uniquely affordable licensing model with lower upfront costs and ability for operators to reach a break-even point 5X faster. Each license includes use of name, lease of unit, access to proprietary recipes developed by award-winning chefs, complete supply chain solution, sales and marketing analytics platform, remote monitoring, scheduled maintenance, software updates, and customer support.
"We have completely redesigned the entire approach of making smoothies and juices. The traditional smoothie-making process can't be optimized as the mechanics involved impose limits on the current process. This means that the typical steps we all are accustomed to like placing fruits into a blender, adding liquids, and then blending for several minutes to reach the optimal smoothie consistency take a long time, not to mention rinsing the blender after every order. Additionally, having employees behind the counter measuring ingredients added at their own discretion doesn't allow for original recipe consistency and taste," said Nik Sakhno, Founder of RoboJuice.
RoboJuice was founded in 2018 with plans to open their first location in 2020 - which was disrupted by the restrictions brought on by COVID-19 pandemic. The team was able to take advantage of 2020 to develop its innovative licensing model with the learnings of an evolving foodservice business environment accelerated by the pandemic and further refine its class-leading hardware solutions. RoboJuice is led by a fit-for-purpose combination of robotics experts, retail technology entrepreneurs, and experienced foodservice operators, which has been recognized by industry veterans. "Nik and his team has been able to deftly put together a technical solution that cleverly combines off-the-shelf robotic technology with custom proprietary embedded automation modules and is supported with a holistic full service operating business model", remarked Gennadiy Goldenshteyn, founder of foodtech product development accelerator Dinemic Ventures and previously VP of Advanced Systems with Welbilt and Head of Global Engineering with Yum! Brands. "RoboJuice serves delicious smoothies with a speed of service of 1 minute per cup, and because of our small footprint kiosks, we can fit within high traffic areas like malls, grocery stores, retail locations, airports, and universities," said Yevgeny Senkevich, CEO and Co-founder of RoboJuice.
Unique RoboJuice advantage - complete best-in-class operator and customer solution
"We are creating an original solution that delivers 10X value to our licensees as well as their consumers, by making a fully autonomous robotic juice and smoothie kiosk solution at a fraction of the investment of traditional smoothie brands," remarked Massimo Noja De Marco, Chief Business Development Officer at RoboJuice, Founder of Kitchen United.
Each kiosk has a humanoid barista with two robotic arms serving freshly made smoothies from organic ingredients with speed and precision. The system is supported by a full supply chain solution and service network, providing all needed ingredients and custom packaging for the licensee operators. The provided software and analytics package includes sales performance dashboard and predictive forecasting, and ordering and maintenance capabilities that allow licensees to easily oversee their operations at both individual and multiple kiosk levels.
Interested licensees can now join a growing waiting list on the RoboJuice website and reserve their kiosk ahead of production with limited availability.