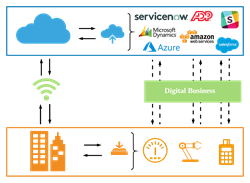 RoboMQ saves $720,000 a year for one of its customers by a single integration between ADP HR and AD, providing Employee Lifecycle Management for its 15,000 employees.
MCLEAN, Va. (PRWEB) November 21, 2018
RoboMQ is excited to announce closing the year with positive growth and many achievements to write home about. In 2018, RoboMQ invested in its no-code UX iPaaS platform that is targeted at business users or citizen integrators. This platform complements its existing Hybrid Integration platform, which targets integration specialists and enterprise users. Its new UX platform RoboMQ Connect provides drag and drop interfaces to build event driven business workflows. A business user can drop a trigger event like an order received and then connect it to actions like Slack notification, update ServiceNow or update information in one of the CRM systems - Salesforce, Hubspot or Microsoft Dynamics CRM.
RoboMQ Connect leverages existing Hybrid Integration platform by using the same backend infrastructure built on microservices, containers, and service mesh which can be deployed on multiple clouds and/or on-prem data centers. With addition of Connect iPaaS to its product line, RoboMQ can now cater to citizen integrators with its no-code tooling and to the IT organizations with its existing Hybrid Integration Platform (HIP). IT organizations often want sophisticated feature rich platform that can scale, be managed centrally and have the bells and whistles needed for larger enterprise scale deployment. RoboMQ Connect iPaaS dovetails into HIP providing personalized solutions that address individual user personas.
RoboMQ is ending the the year by showcasing these accomplishments at Gartner Application Strategies & Solution Summit Summit, taking place November 27th - 29th at Las Vegas. RoboMQ will be exhibiting its technologies at the Solution Showcase, and also presenting on hybrid cloud integration during the session titled, "Cloud to ground and back again - A hybrid cloud journey ".
In this session RoboMQ CEO, Bramh Gupta will discuss how cloud adoption has quickly transitioned into hybrid cloud, as most organizations now have application footprints in multiple clouds and on-premise data centers. Creating a business workflow in such a distributed environment has its own unique challenges of process integrity, guaranteed data delivery, error handling and observability.
In addition attendees will have the opportunity to hear from RoboMQ's customer, Topgolf, during this session on Thursday, November 29th at 11:15 am.
Check out Gartner's registration page for more details or reach out to us at sales@robomq.io with any questions.
About Gartner Applications Strategies & Solutions Summit 2018
The Gartner Application Strategies & Solutions Summit 2018 will help attendees build an applications organization with the agility and flexibility to support today's digital business demands as well as empower enterprises to address digital business opportunities and use leading technologies to create and deploy business critical solutions.
About RoboMQ
RoboMQ is a disruptive Internet of Things (IoT) and Hybrid Integration Platform (HIP) that connects any device, sensor, SaaS application, or enterprise system on any cloud, protocol or language to create context aware and distributed business workflows.